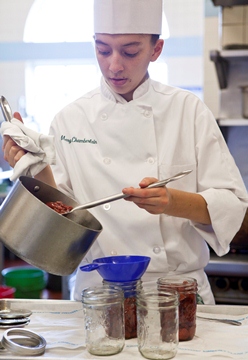 On Earth Day and every day, Culinary Institute of America students go green in many ways.
Aspiring chefs at all three of The Culinary Institute of America's (CIA) domestic campuses in New York, California and Texas learn more than just how to cook. The CIA is also teaching them the importance of chefs as stewards of the environment—both in and out of the kitchen. This is becoming increasingly important as sustainability is prominently featured in restaurants across the country, and the National Restaurant Association cites local sourcing and sustainability as five of the top seven restaurant trends for 2011.
Each year the Hyde Park, N.Y., campus buys $750,000 worth of produce, dairy, eggs, honey and meat from 30 Hudson Valley producers. In the Napa Valley, the CIA's Greystone campus sources much of its food locally—in many cases the food is grown by the students as part of the Greystone Green Thumbs, who manage the student-run garden.
Read more...