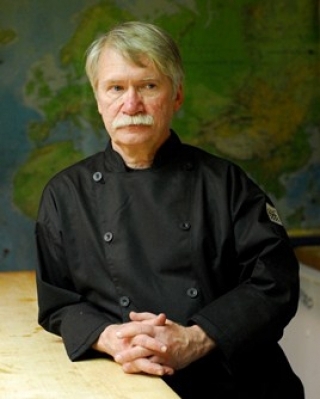 It Takes a Community
01 November 2021
Leaders and mentors inspire others to dream, learn and do more. It is culinary education's missing link.
By Paul Sorgule, MS, AAC
October 20 was International Chef's Day – a date set aside to recognize those who serve in one of the world's oldest professions. Thinking of the influencers in my life, the people who helped me recognize how important this profession is and how fortunate I have been to be part of it gave me pause and a chance to think. How important are those influencers and how can culinary education engage them in the process of preparing the next generation of chefs and food professionals?
Mentorship is oftentimes the key to growth and success in any discipline. It is the role of mentors to inspire, be the example, advise, support, critique, and sometimes push individuals through the learning process. Of course culinary faculty members are mentors and role models, but it has been my observation that it takes a larger community to do the job well.
So, what makes a person a true mentor?
"A mentor empowers a person to see a possible future and believe it can be obtained."
-Shawn Hitchcock
This may be true, but at the same time, the best mentor understands the significance of critique and a bit of tough love. When we know what is possible and see potential in a person and discover that he or she failed to commit to that potential, a mentor must step in and help redefine the roadmap. This is what mentors do and this is what defines a leader. The best mentors are great leaders.
"If your actions inspire others to dream more, learn more, do more and become more, you are a leader."
-John Quincy Adams
Learning how to be all that you can be is a refreshing part of coming of age. Some students have a clear idea of where they want to be, what they want to be, and how to get there. Mentors are there to help with staying the course by providing honest feedback that will help keep the person moving in the right direction and giving words of encouragement as a student checks off the milestones along the way.
We may have a well-developed curriculum, fully integrated lesson plans, the best facilities, and dynamic teachers, but if mentorship is lacking then a student's dreams may remain just that. Building this component of your educational experience is a very important link that will set your program apart and help your students realize those dreams.
Schools can build mentorship into programs by maintaining effective lines of communication with the food industry. Chefs, managers, owners, researchers, food authors, product developers, vendors, and educators from other disciplines can all be viewed as potentially effective mentors. Build this network, present an overview of how they might help, bring them in as guest lecturers, demonstration chefs, or advisors and build in various ways for students to connect. A mentor's willingness to participate actively, to be there if a student wants to contact them, tour their operations, seek an internship, or just ask for their counsel, will help to make your program more effective and complete.
Additionally, it is important to show a student how to receive optimum value from a mentor relationship. Share the mentor's background, offer a mentor networking reception every semester, provide a forum for contacting mentors and mentors contacting students, and celebrate the relationships during and after a student graduates. Your mentors should become part of the entire educational model.
Mentorship is the missing component, the piece of the puzzle that allows students to find direction and seek honest review of their efforts and the course of action they choose.
"If you cannot see where you are going, ask someone who has been there before."
-J. Loren Norris
PLAN BETTER – TRAIN HARDER
---
Paul Sorgule, MS, AAC, president of Harvest America Ventures, a mobile restaurant incubator based in Saranac Lake, N.Y., is the former vice president of New England Culinary Institute and a former dean at Paul Smith's College. Contact him at This email address is being protected from spambots. You need JavaScript enabled to view it..