Instructors can use this fun chocolate activity for an informative class session or low-stakes activity. It is one of my favorites because it involves chocolate.
The basics of chocolate and tempering have always been a part of the culinary program curriculum. I wanted my students to understand the subtle, yet important differences between available varieties of prepared chocolate. This activity is geared for my culinary students who do not receive as much chocolate exposure as a Baking and Pastry student might. Often, our students have not had the chance to taste any high-quality chocolate. They are more familiar with chocolate found in chocolate bars or candy bars and usually have very little experience with white chocolate.
I begin by showing a PowerPoint presentation about chocolate and tempering. I then demonstrate tempering's two methods. Chocolate tasting is a big part of this lesson and I have different types of chocolate with varying cacao percentages for them to try with differing price points. Several vendors donated chocolate samples in addition to the samples we purchased. Students taste chocolates and some nibs and then record their observations in a chocolate journal which they can add to their portfolio.
I cut the chocolate pieces into small nibbles (about the size of my pinky fingernail). Of course, students can taste more than one piece, but I don't want them to become overwhelmed or the chocolate wasted. There is milk and water available for the students as well. The rule is they must always try everything (unless there is an allergy or dietary concern) no matter what they think or their prior experiences. Students can spit it out if they don't like it.
I also was able to get a cacao pod and beans donated for students to see what they look like.

Another goal is for students to understand the difference between regular and Dutch processed cocoa powder. It is difficult since raw cocoa powder isn't easy to taste straight. Dutch processed and "regular" cocoa powder are both readily available to try. I also have other cocoa powder varieties to try thanks to me winning a raffle at the Charleston, S.C., CAFÉ Leadership Conference a few years back.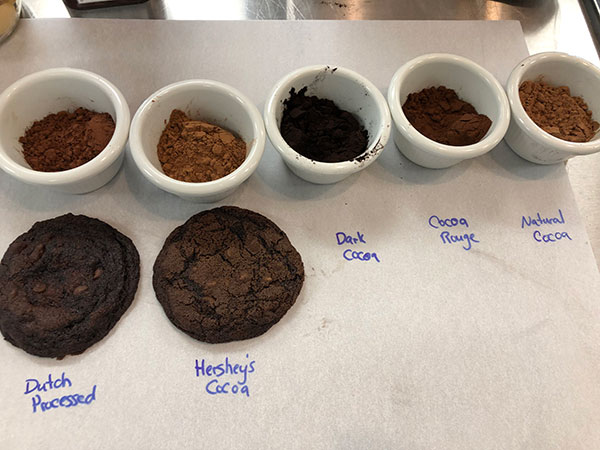 Next comes the cookie tasting portion of the lesson. I have two teams make different batches of double chocolate cookies: one with Hershey's cocoa powder and one with Dutch Processed cocoa powder. They are simple to make with the creaming method and can be put together quickly. I sometimes have teams make cookies with dark cocoa, cocoa rouge and natural cocoa for fun. I cut the cookies into smaller bites and the students taste, compare and contrast the cookies. Instructors can choose to have the students make hot cocoa tasting samples if that works better.
This portion of the activity's objective is to help students develop their palate. I provide them with Chocolate Differentiation Cards that have words to help them associate different tastes. You could have them rank the chocolates based on preference, taste, bitterness, or other characteristics of your choosing. Their tasting notes are submitted in their portfolio when the chocolate tasting portion is finished.
As we start the day's lab portion, I leave the chocolate tempering MEP on my station for students to try their hand at it. We eventually use that chocolate for ganache. This is definitely a great day.
Instructor attachments:
---
Chef Jennifer M. Denlinger, PhD., CCC, CHEP, is the Culinary Management Program Department Chair at the Poinciana Campus of Valencia College. She is also the vice president of ACF's Central Florida Chapter. Additionally, Chef Denlinger earned the 2020 Innovation Award, sponsored by CAFÉ and the Idaho Potato Commission, for a creative escape room based on safe food handling procedures.