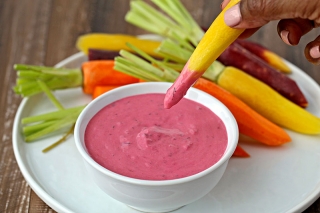 Sauces for Salads
29 February 2020
Salad dressing flavor ideas from fruit to protein to mustard.
By Lisa Parrish, GMC Editor
The most flavorful aspect of salad dressing may not be the word salad; it's the word dressing. A dressing is a sauce added just before serving that amps up the salad's flavor and texture. Perhaps another name could be last-minute dish dressing. Whatever the term, a splash of dressing is all that's needed to make the dish sing with flavors and appeal.
Watermelon's Two Roles in Philippine Salad
Watermelon works well as a dressing and an ingredient because of its fresh, green flavor with fruity, cucumber notes. It pairs well with a Philippine adobo sauce, not to be confused with Latin American adobo sauce that contains tomatoes.
The Culinary Institute of America at Greystone's Rebecca Peizer, CEC, CHE, professor of culinary arts, created the Philippine Grilled Watermelon and Pork Belly Salad. This dish combines various international flavors, with complimenting textures and temperatures, and a watermelon finishing sauce that makes the salad taste and feel like a globetrotting event.
Peizer described the flavor combinations found in Philippine cuisine. "It's about as much of a melting-pot of a cuisine as there can be. So many influences from eastern and western cultures." She said that the region's flavors can be traced back to Spain and Portugal, a result of their intermingled histories in the region. She also noted the Chinese influence can be found in soy sauce and that there were other flavors from the Southeast Asian islands present in the cuisine. "And, since the Philippines were part of the US," she continued, "many of our ingredients and cooking techniques (are there) as well."
Peizer decided on employing both pork and watermelon in the Philippine salad because the flavors, "balance each other out." She explained, "When pork belly is fried, its texture is crunchy on the outside yet mouthwateringly melty on the inside." She noted that watermelon has a crisp, refreshing, juicy, sweet and acidic flavor that compliments the pork. "This is very satisfying to the palate and a good coating too."
Peizer took the application one more level up when she grilled the yellow and red watermelon and added a chilled Philippine watermelon adobo sauce. "I always think about texture and temperature when I create dishes," she noted. Grilling the watermelon gives it a charred flavor, a softened exterior while keeping the inside cold and crisp. The pork belly is fried and the watermelon is grilled and both are warm. The rest of the ingredients are cold. "Texture plays a big role in how we perceive flavor and can add a layer of excitement to the palate," the chef said.
Soy Tofu for Dressing Texture and Nutrition
Soft silken tofu adds healthy plant protein to dips and salad dressings. One serving of silken tofu offers approximately seven grams of protein that is cholesterol-free and low in saturated fat, according to Linda Funk, executive director of the Soyfoods Council. Silken tofu is a versatile foodservice ingredient because of its neutral flavor, smooth and silky appearance and mouthfeel, and texture varieties. Soft silken tofu also seamlessly blends with other dressing ingredients.
Silken tofu is easy to work with, whether it's developing lighter or plant-based versions of classic dressings or creating signature specialties, Funk said. She suggested tweaking popular potato salad by mixing in soft silken tofu with mayonnaise. "To offer dairy-free versions of dips that use packaged dressing mix, substitute soft silken tofu for sour cream," she said.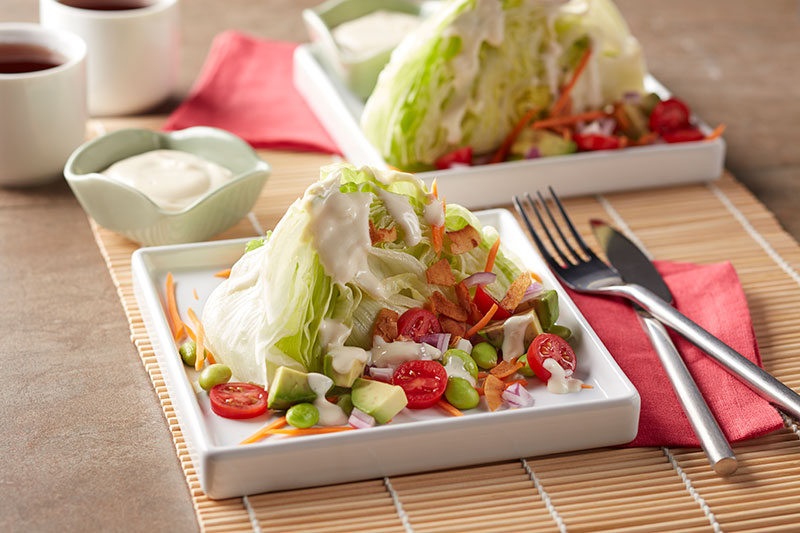 Silken tofu complements global flavors, too. Here are ideas for adapting classics as well as creating new specialties sauces.
Sweet Garlic Wasabi Tofu Dressing complements the flavors of Asian Cobb Salad with shelled edamame and coconut bacon. The dressing combines soft silken tofu with wasabi powder, granulated onion and garlic powders, fresh garlic cloves, agave nectar, Himalayan salt and vegan mayonnaise made with soy.
Asian-Inspired Tofu Vinaigrette features soft silken tofu blended with ginger, white balsamic vinegar, fresh tarragon, soy sauce, orange juice, orange zest, shallots, black pepper, a little sugar, and soybean oil.
Create creamy and colorful dressings such as Creamy Roasted Red Pepper Vinaigrette in a blender. The recipe incorporates soft silken tofu, chopped roasted red peppers, minced garlic and fresh lemon juice, all flavored with smoked paprika and Dijon mustard.
Soy-based Tzatziki Sauce combines pureed soft silken tofu, lemon juice, grated cucumber, and minced garlic.
Spiced Fruit Dip complements a variety of fresh fruits and can be served with fruit salads. Blend together firm silken tofu, brown sugar, vanilla and cinnamon.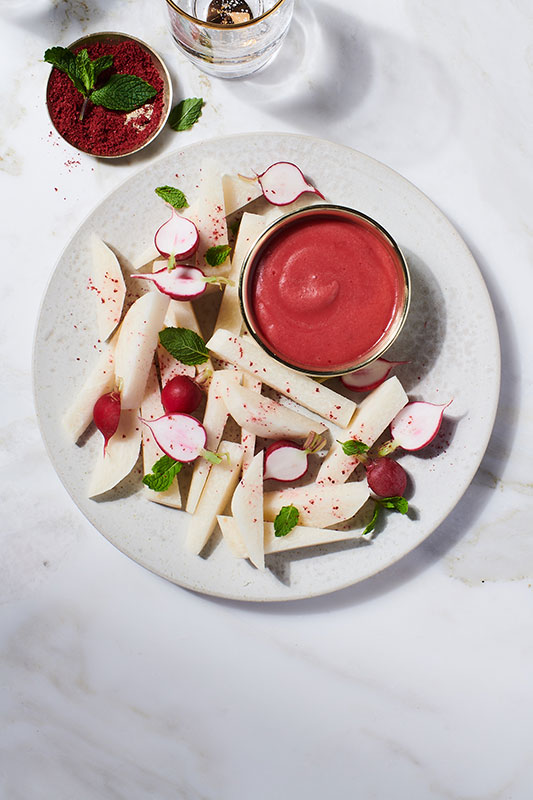 Raspberry Dressings
Raspberry is a unique dressing base because of its perfume, dimension and depth of sweet to tart flavors. The acidity coupled with its ability to act as a natural color enhancer, makes the sauce delicious and visually appealing.
Updated Ranch Dressing - The sweet and tart nature of Washington red raspberries is the perfect match for an updated ranch dressing, giving the mayonnaise base something multidimensional and a rosy-red hue. And, similar to traditional ranch dressings, this dressing can be used as dressing for a vegetable or fruit salad and also as a vegetable dipping sauce.
Mop sauce, finishing meat dressing or salad dressing – Raspberry with mint and lime is a refreshing combination showcasing a bit of Latin influence that really shines in the Washington red raspberry mojo sauce.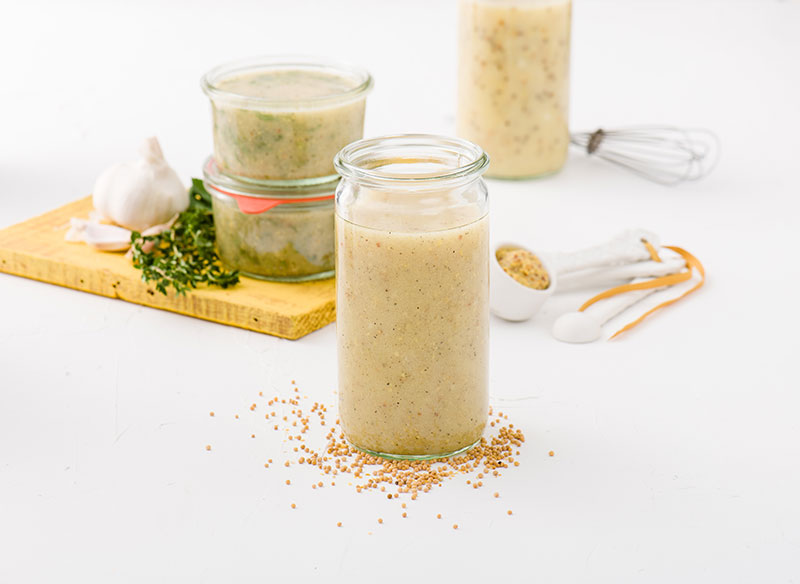 Mustard in Vinaigrettes
"Vinaigrettes can be made with powdered mustard or any of the thousands of prepared mustards available in the markets. The flavor combinations are infinite," said Home Economist and Marketing Director for Spread the Mustard Dorothy Long. Chefs can also choose a whole grain mustard for vinaigrette flavor as well as texture.
Long explained, "Mustard plays an essential role in creating a great salad dressing or vinaigrette. Mustard is an emulsifier. Meaning that it will stabilize and hold together liquids that normally don't mix - such as oil and vinegar."
Mustard is an emulsifier because the seed's outer shell contains mucilage, which has the ability to absorb and hold liquid. It is the mucilage that makes mustard a good binder of oil and vinegar. Long said, "This is also why mustard is used to thicken and stabilize sauces and to bind liquid when making cured meats. Mustard also has antimicrobial properties due to the presence of glucosinolates that reduce spoilage and extend shelf life. Interestingly, yellow mustard seed has slightly more mucilage (binding agent) than Brown or Oriental seed."
Click here for more mustard information and read the Gold Medal Classroom's Meet the Growers article on a mustard farmer.
Photos courtesy of Washington Red Raspberries, National Watermelon Promotion Board, Soyfoods Council and Spread the Mustard.