Wednesday, 10 December 2014 03:00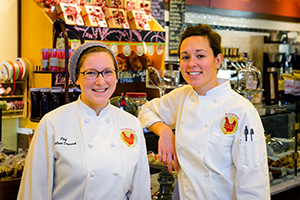 An award-winning pastry chef and talented baker and cake artist bring their seasonally inspired, artisanal confections to life at this Parisian-style Rhode Island bakery.
As a young teen Melissa Denmark, CC, was constantly reading cookbooks and applying what she learned in the kitchen. An avid baker, she joined a mentorship program at a French restaurant during her final year of high school. That early training led her to the pastry-arts program at Johnson & Wales University in Providence, R.I., where she graduated summa cum laude.
After working at a Ritz-Carlton property in Florida, Denmark went on to work with a cake decorator in Maryland and for Bobolink Dairy Farm and Bakeyard in New Jersey. It was during her latter stint that she came to appreciate the importance of sustainability and using farm-raised foods.