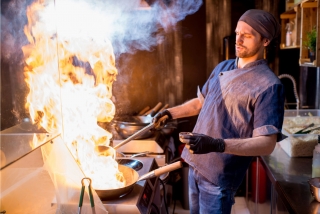 Pulling Back the Curtains on Dark Kitchens
06 October 2021
The second in a two-part series discussing the reality of ghost kitchens as profitable concepts.
By Lisa Parrish, GMC Editor
The street buzz around ghost, cloud, and virtual kitchens is undeniable. The money cascading into the small and nimble delivery kitchens is staggering. But, just like every new industry opportunity, culinarians need to know what works and what to watch for before jumping on the virtual bandwagon.
This is the second article in a two-part series shining a light on dark kitchens. The first article focused on the nuts and bolts of ghost kitchens. This story discusses successful setups and which pitfalls to avoid when virtually selling food.
Small batches more often with a quick turnaround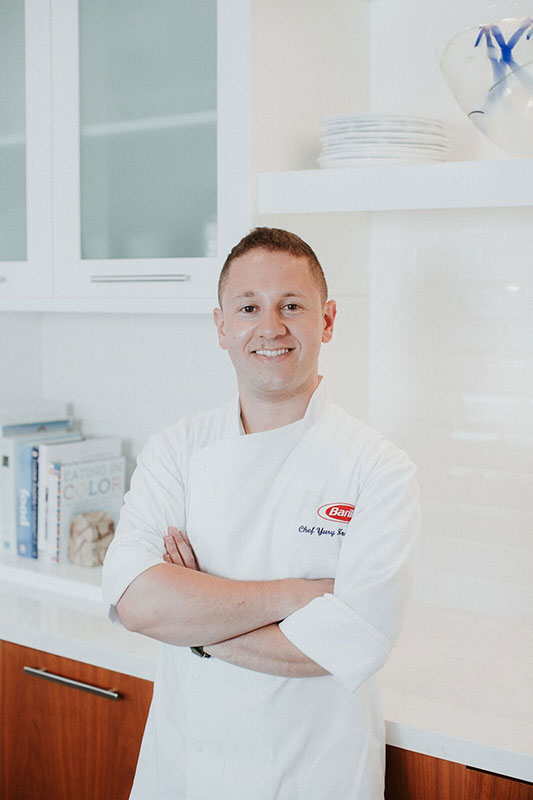 Dark kitchens are designed, from the business model to the kitchen footprint, for speed and versatility. Crammed into a small pod, sometimes around 300 square feet, cooks receive orders and usually have between five and seven minutes to prepare and package the dish. Delivery drivers pick up the food and have an industry-standard 30 minutes or less to reach the customer's door.
Quick food turnaround time requires specific and strategic menu strategies. Barilla Executive Chef Yury Krasilovsky has assisted in the development of several start-up ghost kitchens. He said, "The key is simplicity, a simple approach from operations to the customer experience. The more adventuresome the menu the less the success." He suggested that the average delivery customer is not searching for a virtual restaurant's foie gras.
Another consideration when creating a menu is the packaging. Keeping items hot (and cold) and separate when traveling has been a challenge for this fledgling industry. A quick scan of menus on Grub Hub, Door Dash and Postmates will reveal many options of chicken wings, grain bowls, sandwiches and pasta dishes – coincidentally items that travel well and are optimized for simplicity. As dark kitchens evolve, many people believe menu development is an area ripe for innovation.
Consider the kitchen environment
In tight kitchen spaces, equipment location and capabilities become vital. There just isn't room for numerous pieces under the hood. This is where a new trend of multifunctional cooking equipment can benefit virtual kitchen setups.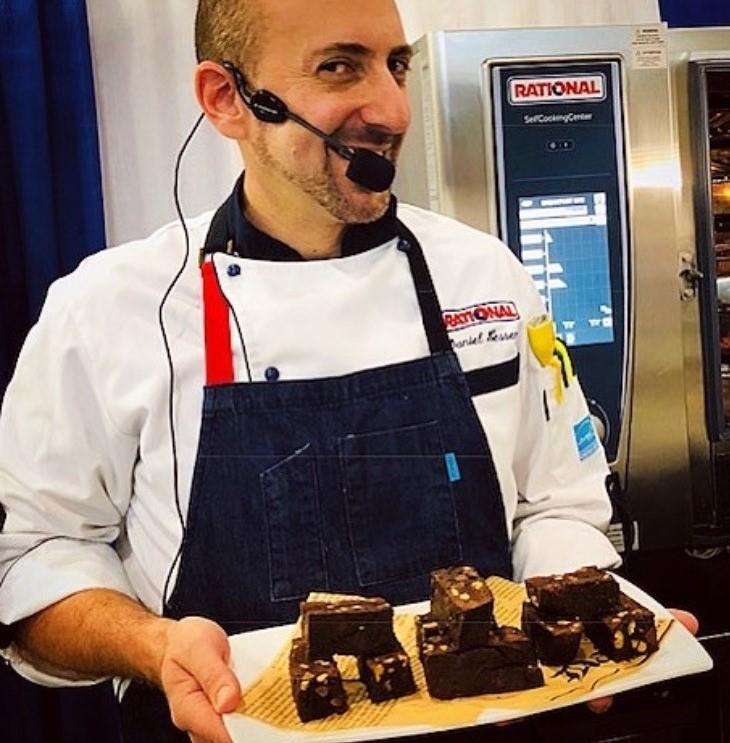 Daniel Lessem, RATIONAL's corporate chef and director of educational partnerships, said that in his experience working with limited-footprint kitchens selecting multitasking equipment is better than swapping out different pieces of equipment to accommodate different cooking methods.
Chef Lessem offered RATIONAL's iCombi Pro and the iVari Pro as examples of equipment that can handle multiple cooking methods in one cabinet.
"The iCombi Pro is like a pan fryer," he said. It can cook by convection, dry heat, or steam with a top temperature of 575 degrees. Actively removing humidity opens the door to many different cooking climates and methods. "It's like controlling the weather in a box," he said. The iCombi Pro can cook applications such as pizza, rotisserie chicken, and tandoori.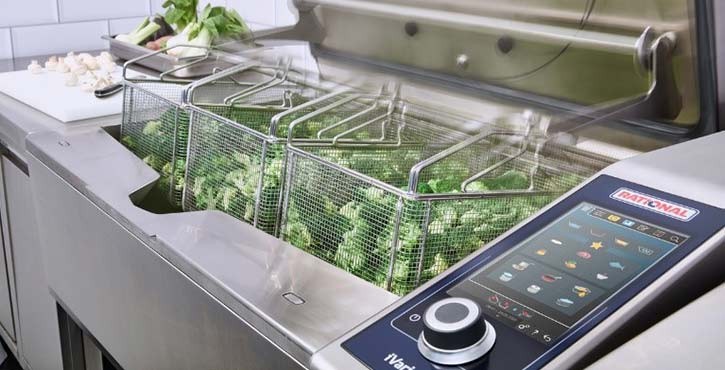 Chef Lessem described the iVari Pro's cooking environment as similar to the environment of a deep fryer with more functionality. The iVari Pro can boil, fry, deep fry and pressure cook. Examples of cooked dishes include pasta, beef stroganoff, rice pudding, stocks and soups.
"Technology offers quick-change functionality. You can change on a dime," Chef Lessem explained. "This technology is all about the customer and reprogramming products easily. You adapt the equipment to the menu rather than the menu to the equipment."
(Click here to watch a free Coffee with CAFÉ webinar featuring Chef Lessem's trends presentation, "What students need to know about technology in today's professional kitchen.")
Customizations and customer feedback keys to success
Upselling is difficult in a virtual environment - there are no servers to offer suggestions on food and beverages. Therefore, restauranteurs tweak a customer's interest by offering dishes from simple and sought-after ingredients in a way that makes the dish stand out.
Barilla Chef Krasilovsky explains, "People love a marinara sauce. You can add basil and parmesan and have a tomato basil sauce. It's a menu change but the product is still approachable." He also suggested making signature dishes more premium with the addition of a premium ingredient. "For instance, if a dish includes parmesan cheese, you can switch to parmesan Reggiano. It's not a lot of work."
A chef should consider which customizations to offer based on what is already on hand, according to Chef Krasilovsky's principle of keeping it simple. "Consider what's in your environment and be flexible. Use the available tools," he said.
Another successful business approach to virtually selling delivered foods is to make the same product and offer it under different brands to determine what customers prefer. Chef Krasilovsky said a company he worked with offered the same pasta dishes under two brands, one with an Italian name and one with a simple name with pasta in its title. The Italian-sounding brand sold much better. The company closed the simple-sounding name and created another virtual brand with an Italian name and the sales tripled overnight.
Listening to customer feedback is a tried-and-true business tactic but it's even more important in a virtual environment, especially with the technological feedback available. "Companies like Grub Hub can offer customer service data points like how many customers clicked on chicken, or what restaurant did they order their chicken from, or what restaurant did they go to after they visited your site," the Barilla chef said. "Feedback is the most valuable thing we have. How do you get better without feedback?"
The cons of ghost kitchens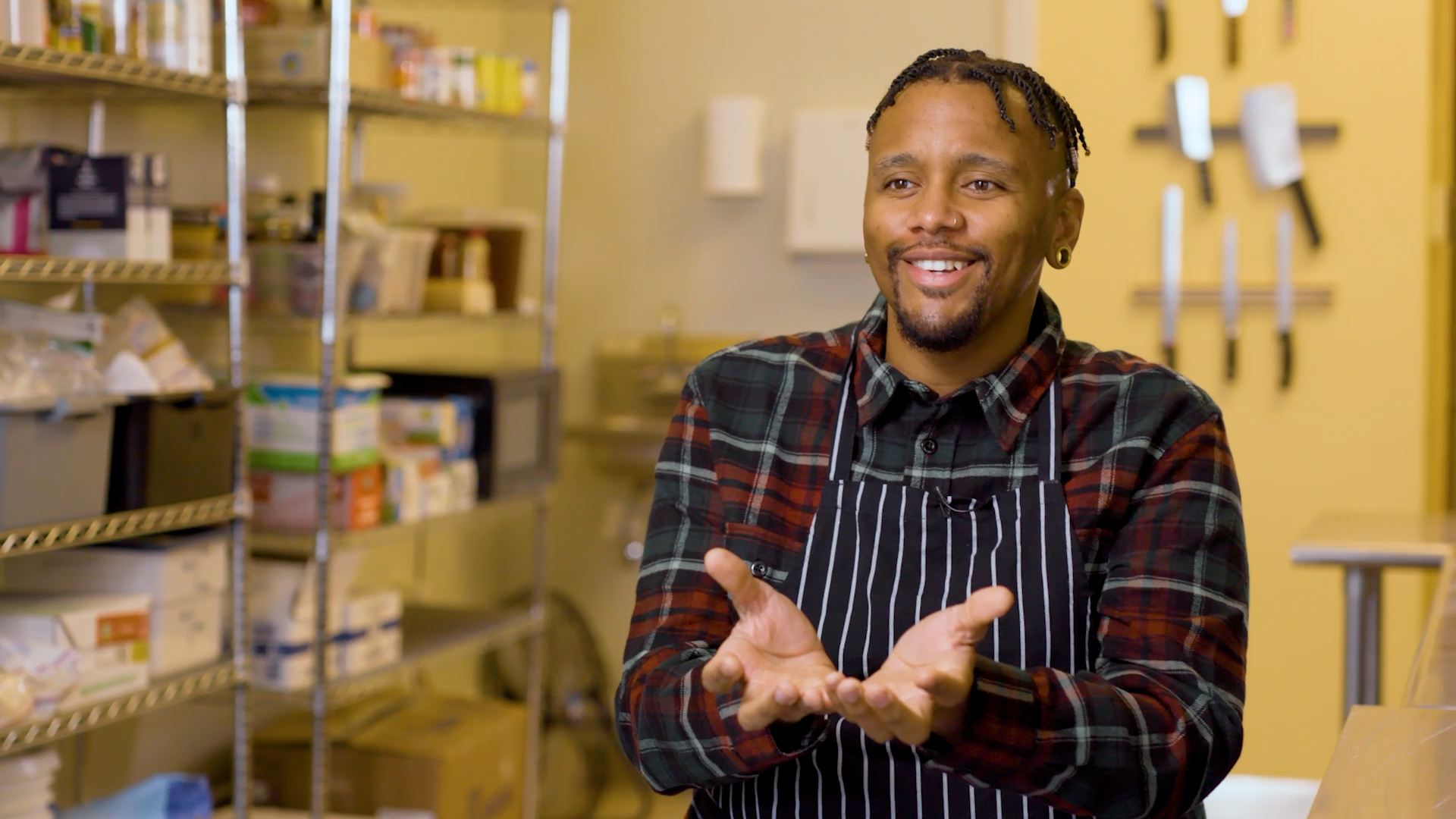 Ghost kitchens can sound like a panacea. There are so many benefits from multiple brands selling the same fare, no front of the house staff, and no brick-and-mortar storefront. This list goes on. What could be bad? Plenty, according to Chef Rashad Armstead who operates a commissary-style kitchen called the Black Food Collective in Oakland, Calif.
Chef Armstead believes the ghost kitchen model favors big foodservice businesses with deep pockets. He said they make profits on small margins due to their massive size and infrastructure. Stand-alone ghost kitchens are too expensive to operate for mom-and-pop shops. Which, according to Armstead, is where "middle class America is built."
"There is a high closing rate of small businesses because they figured out it's harder than they thought," said the "CHOPPED" season 42 winner. "They just can't make enough money to sustain themselves and live."
He believes the ghost kitchen concept was popularized during COVID-19 when restaurant owners were desperate and pushed out familiar food to survive. The model is harder to maintain when preparing higher-quality foods. "If someone ordered a salmon pink, it would be fully cooked upon arrival," he said. Another difficult food to deliver as ordered is steak. He said that if someone ordered a medium steak, it would be well done or cold when it arrived at the delivery customer's door.
Chef Armstead has devised a new business, Epic Venture Test Kitchen, which is looking to create a space that mixes the traditional brick-and-mortar store with the ghost kitchen model. Small business owners will become profitable through fairly priced rent for fully-equipped spaces, opportunities to learn from other successful small businesses, and support by Armstead and his team.
He is in the initial funding phase for the development of a 20,000 square-foot space in Oakland, Calif., that will house: 30 ghost kitchens complete with sinks, hood, fryers, and more created from converted shipping containers; five traditional store-front models; production kitchen; and courtyard with tables. Customers at the test kitchen site can scan QR codes to place orders and receive a text for food pickup. If customers are online, they order through the Epic Venture Test Kitchen app and the food would be delivered by the company's fully employed team of drives. Gig workers will not be used for transportation. Additionally, business owners will have access to foodservice experts who can assist with business strategies such as marketing, menu development and food costs.
Chef Armstead believes that offering fair rents – below Oakland market value - will be offset by an increased revenue stream. His target audiences include food entrepreneurs who are Black and people of color.
"I want to provide equity for small business owners and facilitate their opportunities while fostering a sense of community," said Chef Armstead. He anticipates his project will create 60 new businesses and provide for 180 new jobs to support.
Click here to watch Chef Armstead's Zoom presentation about Epic Ventures Test Kitchen.
Click here to watch the Real California Milk's video featuring Chef Armstead and his Black Food Collective project and his Jambalaya mac and cheese.
Editor's Note: This is the second in a two-part series about ghost kitchens. Click here to read the first article, "Shining the Light on Ghost Kitchens."