Mark Your Calendars for Whole Grain Sampling Day – March 28
28 February 2018
The seventh annual Whole Grain Sampling Day is an opportunity to promote delicious and healthy eating with whole grains taking front and center.
By Whole Grains Council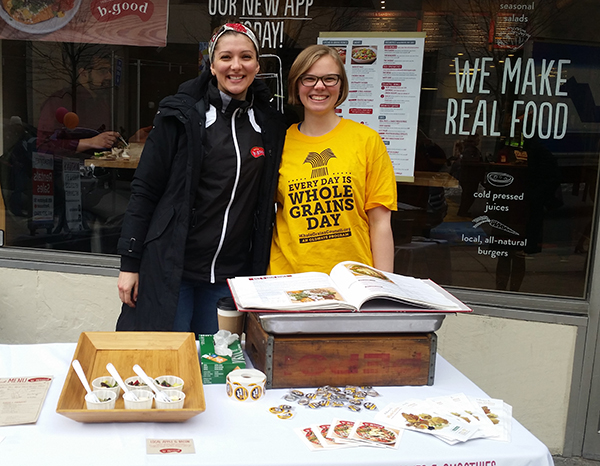 Oldways, a nonprofit organization dedicated to improving public health via traditional eating choices, invites culinary instructors, schools, and other organizations to participate in the seventh annual Whole Grain Sampling Day celebrated on Wed., March 28. The goal of the day is to put the focus on whole grains and increase the visibility of organizations that offer these healthy foods to their consumers. Last year saw over 200 events across 38 states, reaching thousands of people.
Oldways works through the Whole Grains Council to promote the enjoyment of whole foods and the place of those whole - real foods - in a total balanced diet. They believe that counting numbers of calories, fiber, and nutrients detracts from the pleasures of the table. With no "healthiest" whole grain - it's like asking what's the best fruit or vegetable – they try and educate consumers about the various grain benefits, so wise eaters can enjoy a variety for the best range of healthy nutrients and good tastes.
Whole Grain Sampling Day is a single-day event that inspires classrooms, restaurants, food companies, supermarkets, cafeterias, and even food trucks across the nation to offer special promotions and samples of whole grain items. 2018 will include participation by major organizations such as Hannaford, Hy-Vee, Panera Bread, the Ohio State University, and more. Here are some ideas from other colleges who are or have participated:
Hillsborough Community College, Tampa Bay, Fla., - Hillsborough Community College will be staffing a table with educational information and free samples of whole grains offered to the college community of students, staff and faculty.
Oakland Community College, Mich. - The Culinary Studies Institute at Oakland Community College will be creating a special whole grain menu.
Johnson & Wales University, Rhode Island – Last year Johnson & Wales University had special whole grain menu items in their dining halls and encouraged whole grain choices via social media and digital screens across campus. They also featured a whole grain calendar countdown leading up to the event. Some culinary instructors also included whole grains in their lessons for that day.
Culinary Institute of America, Hyde Park, New York - Last year chefs in the High Volume Production class as well as restaurant associates focused their dishes on representing different whole grains as the centerpiece and as accompaniment in the student dining facility. The CIA also highlighted Whole Grain Sampling Day on their Portal site, student dining screen and on their communications chalk board telling their guests about whole grains.
The Whole Grains Council makes it easy for companies and organizations to participate. Resources are available here and include targeted guides for restaurants, food service organizations, universities and more.
"Whole Grain Sampling Day provides campuses, restaurants, retailers, and food companies an easy opportunity to drive traffic," said Kelly Toups, Director of Nutrition for Oldways. "Anything that celebrates whole grain goes, so help us make this the biggest Whole Grain Sampling Day ever."
Photos courtesy of the Whole Grains Council.
---
About Oldways: Oldways is a nonprofit organization dedicated to improving public health via traditional eating choices. They offer educational programs and recipes based on cultural heritage, the goodness of whole grains, and the practices of traditional cheese-making. Find out more at http://www.oldwayspt.org.
About the Whole Grains Council: The Whole Grains Council (WGC), an Oldways program, has been working since 2003 to increase consumption of whole grains for better health, and in 2005 introduced the Whole Grain Stamp, now used on more than 11,000 products in 58 countries. The WGC's many initiatives help consumers to find whole grain foods and understand their health benefits; help manufacturers and restaurants to create delicious whole grain foods; and help the media to write accurate, compelling stories about whole grains. Find out more at http://www.wholegrainscouncil.org.