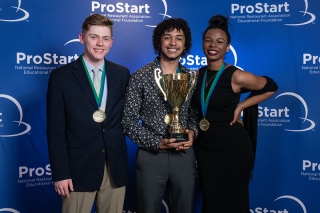 ProStart Management Competition Winners Mesh Italian and Latin Cuisine in Restaurant Concept
31 May 2019
High school students from Mansfield, Texas, impressed judges with their half and half concept while maintaining a "One Team, One Dream" motto
By Thomas Smith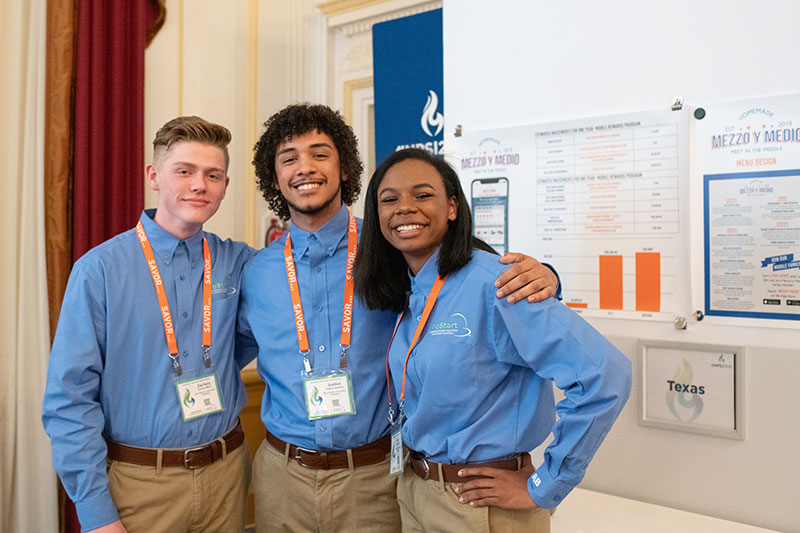 Picture a culinary version of ABC's "Shark Tank," where judges decide which restaurant idea is best. Now imagine the restaurant concepts are created by high school students. In the National ProStart Invitational's 2019 management competition, teams of students created a thoughtfully designed and exhaustively developed restaurant concept and then presented the idea to a panel of judges. The competition was fierce with $200,000 in scholarship prize money on the line.
The winning restaurant concept, "Mezzo y Media" came from Ben Barber Innovation Academy in Mansfield, Texas. This concept, meaning half and half, impressed judges with its unique fusion of Latin American and Italian cuisine. Zachary Mann, a student on the management team, said the concept stood out for its originality and innovative take on comfort food.
"Since both of these cultures have such a strong focal point of family, we felt as though this would be a nice focus for the concept," Mann said.
The idea of family played a big role in Mansfield's management win, as high school teacher advisers David Roberson and Jocqui Baker-Roberson are married to one another. The team of students also became close over the course of the competition, Baker-Roberson said, and developed a good sense of humor that helped them when they became frustrated.
"They finally began to understand the true meaning of grace," Baker-Roberson said. "Putting themselves in each other's shoes helped them to truly embrace our motto, One Team One Dream."
The National ProStart Invitational hosted by the National Restaurant Association Educational Foundation is an annual competition featuring teams of high school students from across the country. This year's competition was held in Washington, DC, and also featured a culinary competition. Qualifying for this prestigious event requires victories at both state and regional ProStart competitions.
Teams must thoroughly plan their restaurant idea before presenting their concept at any ProStart management competition. It is up to students to devise a marketing strategy, decide on pricing, design menus, and plan the internal layout. The team must also complete a comprehensive SWOT analysis, examining the strengths, weaknesses, opportunities and threats of the management plan.
"We really had to think of every detail since we built a concept from the ground up," Mann said. "Everything from the Edison light bulbs hanging in the indoor patio to the format of our menu."
In the competition, teams begin by giving an oral presentation to judges. This presentation gives students a chance to defend their concept, explain their business plan, and highlight the qualities that make their restaurant unique. At the national level, competing teams present their ideas like a well-oiled machine, with each student knowing their lines without note-card assistance and memorizing which keyword signals the next team member to begin talking about the next point.
After a team's presentation concludes, the judges ask questions to assess the students' capacity for critical thinking. Although successful management teams are well-prepared for both parts of the competition, they do not know the questions they will be asked ahead of time. Students are allowed to converse with one another before answering a question but must do so on the spot. The unpredictability of questions forces competitors to be prepared for anything.
"A lot of the judges liked our concept," Mann said. "They appreciated the fact we were combining such vibrant comfort foods and doing something that people have never seen before. Most of their questions were pertaining to the concept so we all knew what we were talking about, and it helped that we each had a specific area of the concept that we specialized in."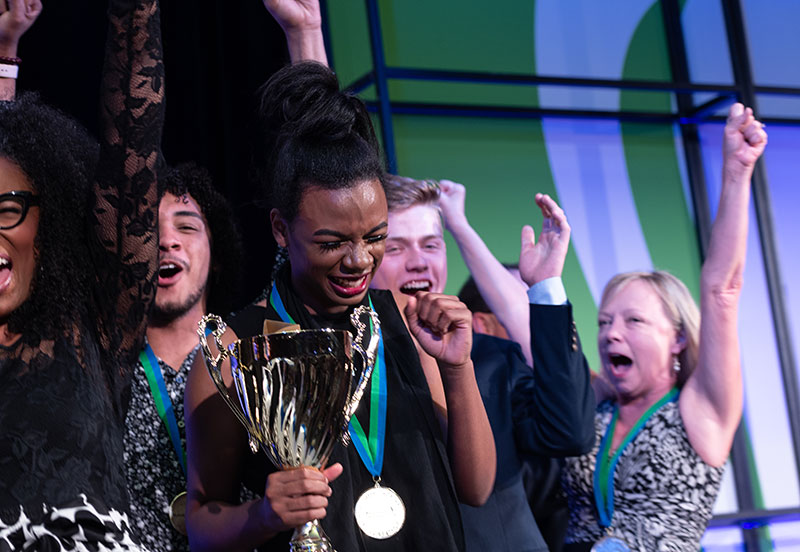 Every competition space, hallway and lounge of the National ProStart Invitational buzzes with excitement from passionate students and industry professionals united by a common love for food. Mann said he thought the competition was spectacular, and views it as an opportunity to network and gain valuable restaurant industry knowledge and experience.
"The Foundation's vision to create a competition for these up-and-coming chefs and restaurateurs provides an outstanding opportunity for these students to get first-hand experience and real-life exposure to what the industry has to offer," Baker-Roberson said. "The competitions are a great platform for many students to break out of their shell, as well as for those who may not know what they want to do regarding the food service and restaurant industry."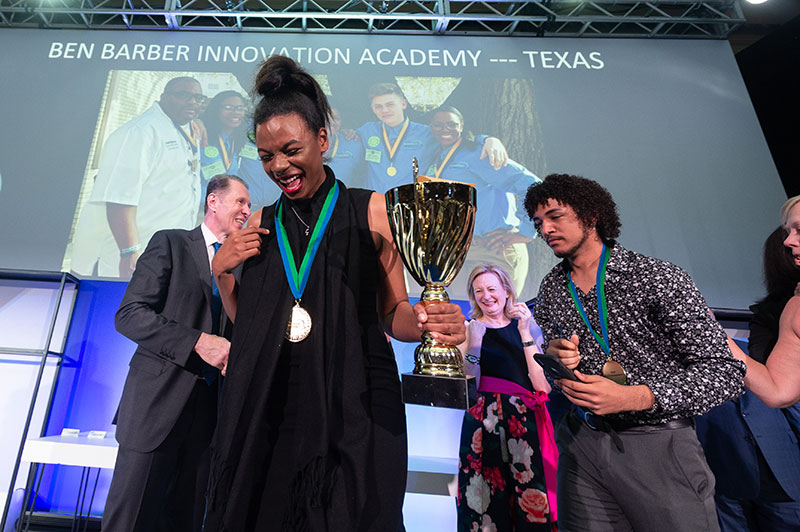 This exposure enables students to develop useful career skills. ProStart Director Amy Saltzman said the management competition encourages students to hone their stagecraft, critical thinking, and marketing skills. These skills have numerous applications in the professional world, and many ProStart students go on to be successful outside of the restaurant industry. However, developing management skills is sure to help entrepreneurial high school students in any career they pursue.
Winning the competition will help Mann accomplish his dream of attaining a degree in a culinary field. "I hope to own a restaurant of my own one day," the student said, "so I can bring joy to people through culinary arts."