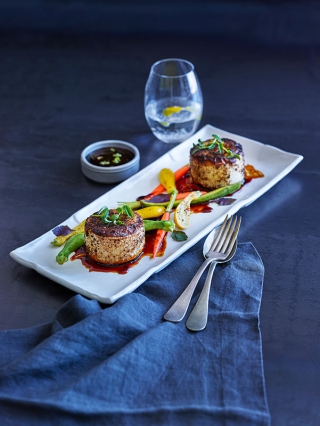 Fermented and Traditionally Brewed Soy Sauce Worth the Wait
03 June 2019
See, smell, taste, experiment with and customize the complex flavor of soy sauce.
By Kikkoman USA
Soy sauce has been used for more than two and a half millennia and can be considered among the world's oldest condiments. With its flavor complexity and endless customizable options, soy sauce has come full circle and is now being utilized in everything from drinks to demi glazes to dessert sauces. How can one pantry staple do all that? Fermentation is key and chef educators can taste the difference in an easy-to-replicate classroom experiment.
The Complexity of Soy Sauce
Discovered in China more than 2,500 years ago, soy sauce is thought to be one of the world's oldest condiments. Remaining a cornerstone of Asian cuisines and beyond, the time-honored traditional brewing process allows soy sauce to develop more than 300 flavor and aroma components rich in umami.
The Traditional Brewing Process
There are two distinct types of soy sauce on the market today: traditionally brewed (or "fermented") sauces and non-brewed products.
The traditional brewing of soy sauce is accomplished in three distinct steps: koji-making, brine fermentation and refining. Despite advances in technology, the fermentation process simply can't be hurried. Like a fine wine, it takes several months for the rich, complex bouquet of flavors to develop.
Koji-making: To begin the process, carefully selected soybeans and wheat are blended under controlled conditions. Then, a seed mold is introduced, and the mixture is allowed to mature for three days in large, perforated vats through which air circulates.
Brine Fermentation: The resulting culture, or koji, is then transferred to fermentation tanks, where it is mixed with saltwater to produce a mash called moromi. The next, and perhaps most critical step, is allowing the moromi to ferment for several months using osmophilic lactic acid bacteria and yeasts. During this time, the soybeans and wheat are transformed into a semi-liquid, reddish-brown "mature mash." This fermentation process creates the many distinct flavor and fragrance compounds that build the soy sauce profile.
Refining: Following the months of moromi fermentation, the raw soy sauce is separated from the solids by pressing it through layers of filtration cloth. The liquid that emerges is then refined, pasteurized and packaged as finished soy sauce.
Producing non-brewed soy sauce is an entirely different matter. Soybeans are boiled with hydrochloric acid for 15-20 hours. After most of the amino acid is removed from the soybeans, the mixture is cooled to stop the hydrolytic reaction. The amino acid liquid is then neutralized, pressed through a filter, mixed with active carbon and purified through filtration. Without fermentation, color and flavor are introduced to this hydrolyzed vegetable protein mixture by adding caramel color, corn syrup for sweetness, and salt. The mixture is then refined and packaged.
See, Smell and Taste the Difference
So, can you actually tell the difference? Try it for yourself! Set up a Soy Ceremony with two small tasting dishes, one with Kikkoman Soy Sauce and the other with a non-brewed soy sauce. (Hint: it helps if the tasting dish has a design on the bottom, such as a bullseye.) Then, test your senses with the following steps: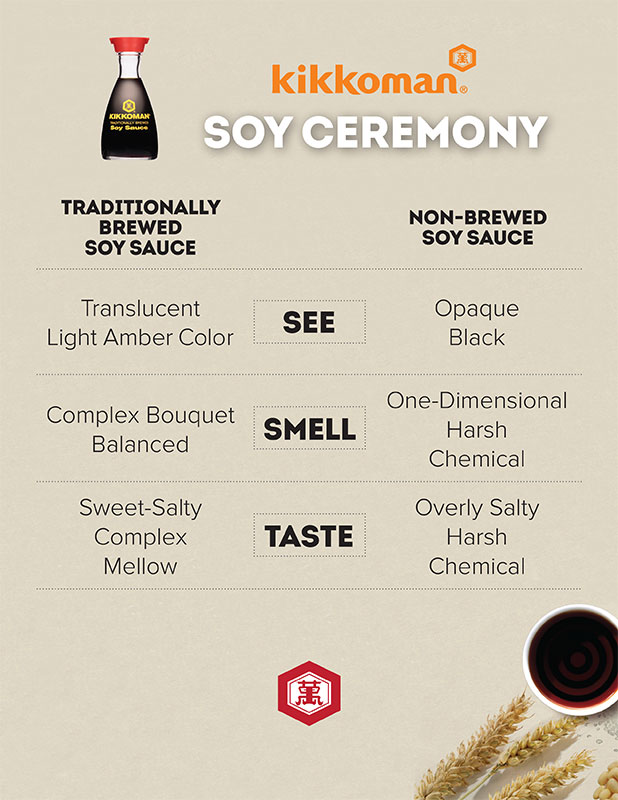 See
The bullseye pattern in the dishes immediately reveals the first major difference. Kikkoman is delicately translucent with a reddish-brown color, which you can see the pattern through; the non-brewed soy sauce is black and opaque. No bullseye is revealed.
Smell
Next swirl the sauces as you would a fine wine and take in the aroma. Kikkoman's is slightly sweet, rich, a bit earthy and decidedly appetizing. While the non-brewed soy sauce has an acrid, chemical aroma.
Taste
Now sample a few drops of Kikkoman, letting its flavor spread across your tongue. You'll be struck by its complexity, delicate flavor balance, and the play of salty, sweet, sour and savory on your palate. That's because Kikkoman has nearly 300 flavor and aroma components. Now try a taste of non-brewed soy sauce. It has a sharp, overpowering, unpleasant flavor.
Once you experience the difference, there is one last step: cooking. When you cook with traditionally brewed soy sauce, you quickly discover it is more than just an Asian flavoring. It's a remarkable flavor enhancer that rounds out the essence of other ingredients, adding depth and richness to all kinds of foods, from burgers to green salads, soups to casseroles.
Cooking with Soy Sauce
Most seasoned chefs have secret ingredients, which adds that last, elusive layer of flavor to their dish and brings everything together. Asian chefs have been using traditionally brewed soy sauce in this capacity for more than 200 years, and today you'll find chefs across cuisines utilizing the power of this flavor enhancer. The product's complex flavor components allow for its applications to stretch far beyond simply using it as a condiment for sushi or take-out Chinese dishes. The power of soy sauce is in its umami, the fifth primary taste best described as the savory and delicious qualities found in some foods, such as Parmesan and tomatoes. When umami is balanced properly with the other four primary tastes – sweet, salty, bitter and sour – the dish, whether it be pastry, pizza or pasta, is ultimately more delectable.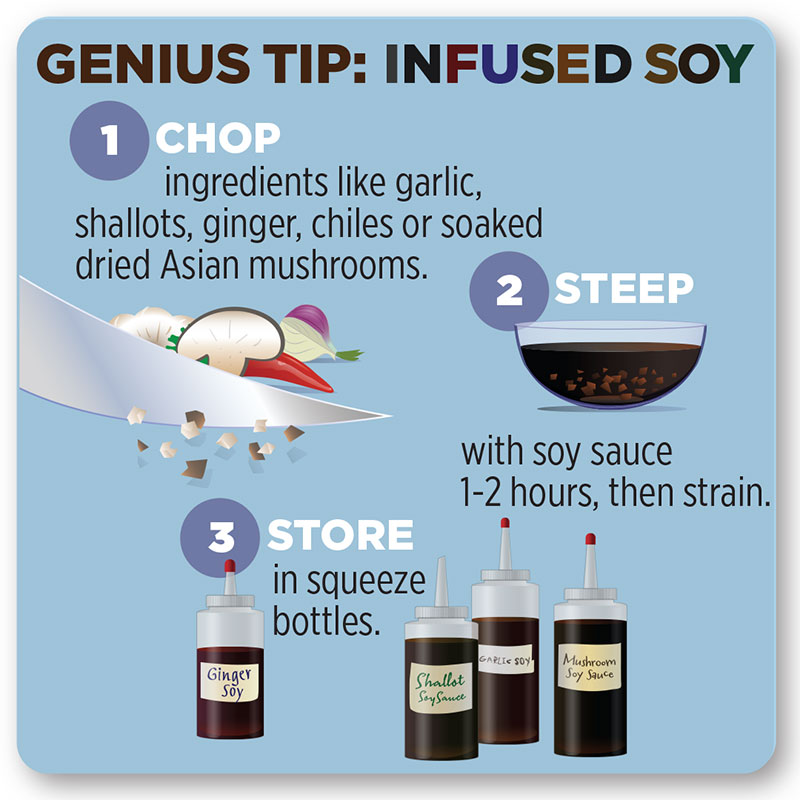 Creating your Own Custom Sauce
Using soy sauce as an umami-packed base makes it easy to create a custom sauce all your own. Experiment using the following three steps:
Chop ingredients like garlic, shallots, ginger, chilies or soaked dried Asian mushrooms.
Steep with soy sauce for 1-2 hours, then strain.
Store in squeeze bottles for easy use.
Experiment
Be inspired by how these chefs are using soy sauce in unique ways:
Jim Meehan of

Please Don't Tell in NYC

, was

inspired

by the better known Chinese duck,

and

named this cocktail

"

Peeking Duck

" because the

Aylesbury

Duck Vodka barely peeks through the flavorful ingredients (including Kikkoman Soy Sauce).

Three-time James Beard Foundation Rising Star Chef of the Year award semi-finalist Irene Li uses Kikkoman Soy Sauce to create a perfectly balanced Maple Soy Caramel Sauce served over ice cream at her restaurant Mei Mei in Boston.
Executive Chef David Kuzma of Yale University turns the umami benefits of Kikkoman Soy Sauce into a soy demi glaze for his Porcini Dusted Turnip Steaks at Yale Dining.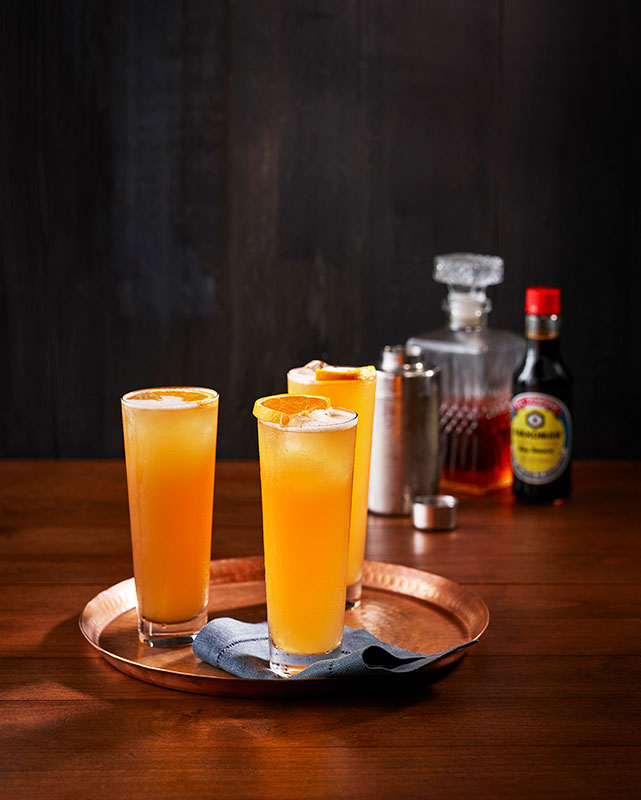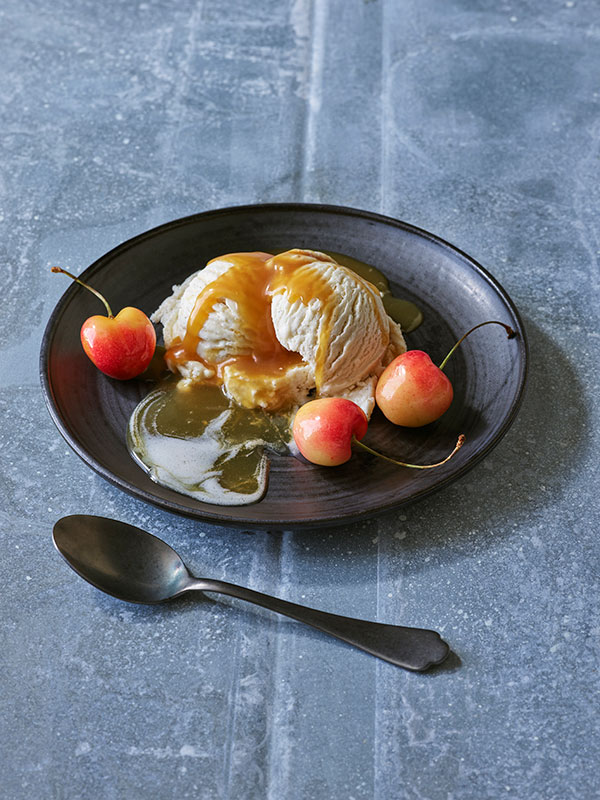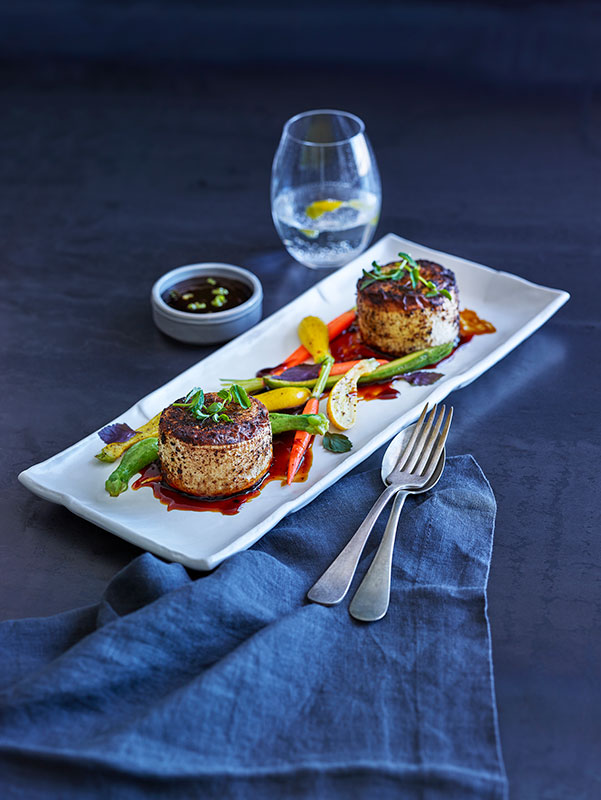 For more information, visit www.KikkomanUSA.com/foodservice. You can also download a Soy Sauce 101 infographic for fun facts and quick tips: https://kikkomanusa.com/foodservice/resources/KK_SoySauce_InfoGrph.pdf