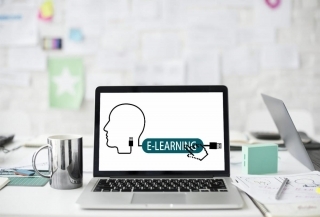 GMC Compiles Online Culinary Strategies and Resources
27 March 2020
Stories focus on three areas: moving classes online, what to teach in a digital environment, and how to teach in a distant learning setting.
By Lisa Parrish, GMC Editor
In the last two weeks, CAFÉ's Gold Medal Classroom has published three Special Editions designed to assist culinary instructors tasked with moving their instruction from a classroom to a digital environment. COVID-19 has changed culinary arts education at lighting speed. These short, practical stories provide instructors with strategies for moving toward online instruction, deciding what content to teach remotely, and learning how to teach distant learning classes.
Read on to discover the world of culinary online curriculum amid a global pandemic.
Strategies for moving to an online curriculum
Sharing Distance Learning Ideas
Nine school instructors and administrators share their schools' strategies for moving toward an online culinary curriculum.
Assistance for Culinary Distance Learning Classes
GMC readers receive free access to online culinary courses to help ease the quick transition to a distance learning environment.
Lesson plan suggestions for online curriculum
Teaching Virtually
10 projects and lessons instructors can immediately implement online.
Practical Suggestions for Online Culinary Lesson Planning
Chef Adam Weiner provides 10 more suggestions for teaching online culinary classes without high-tech functionality.
Video for Classroom Use and Learning Tricks and Turns of Online Instruction
Discover a list of online resources from cooking demonstrations to how to effectively utilize Skype's screen sharing feature.
Internships When There Are No Internships
Create case study-based internships in partnership with area restaurants with the intent of building operational recovery programs.
Strategies for instruction in an online environment
Online Teaching Tips
Dr. Fred Mayo suggests distance learning teaching tips such as establishing deadlines, setting communication boundaries and maintaining a positive attitude.
Online Teaching Pitfalls and Strategies
Instructors can help mitigate frustration and extra work by following Dr. Fred Mayo's advice for avoiding common online education teaching pitfalls.
Challenges of Managing Online Discussion Groups
Avoid the black hole of time being drawn away by discussion groups.
Focused Online Instruction Includes These Markers
Students respond best when online classes include downloadable lessons, deadlines and real-time interactions.
Teaching during a crisis
Necessity is the Mother of Invention
Challenging times call for action and offer creative opportunities.
Virtual Wellness
Caring for yourself and your students during the crisis.