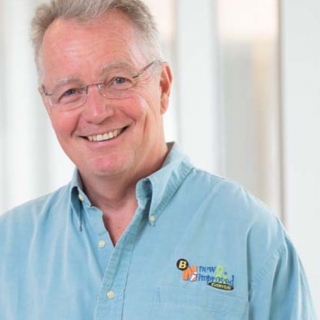 Two Additional CAFÉ Talks Podcasts Posted
30 September 2020
Innovation expert Bob Eckert and wine importer Jack Edwards featured on-air guests.
By Lisa Parrish, GMC Editor
CAFÉ Talks podcasts continues the culinary conversation with the next two guests.
Click here to listen to CAFÉ Talks episode six: CEO of New and Improved Bob Eckert, Unlearning Comes First.
Inspiring creative thought and improvement requires a commitment to hold certain values - the values on an innovator - constant. Bob Eckert is practiced at inspiring creative thoughts in others through researched techniques that lead people away from critical, defensive thinking toward new thought processes.
Creativity, rampant in children, tends to wain as they grow into adults. Why? According to Eckert, humans like to be included in groups that have commonly accepted behavior patterns. Creative thinking challenges patterns by asking the group to do things differently causing push back and stifling new ideas. Evoking certain values begins to open the once-closed gateway to creativity and problem-solving solutions.
Innovators' Values
Innovation is achieved when people consider problems and challenges through the PITCCH Model. The list is not a step-by-step process but a group of ideals to keep in mind when searching for innovation.
Passion – The people considering the problem love what they do and are committed to the work.
Integrity – Staying honest and open about the creative process and not stifling creativity with negativity and defensiveness.
Tenacious – Working toward creative solutions even when faced with roadblocks. It's staying the course and continuing to revisit the challenge using better tactics to be heard and understood.
Curiosity – An ability to wonder and create innovative, new processes.
Courage – It takes bravery to move beyond group-established behavior patterns and implement innovation.
Humility – The understanding that one person does now know all the answers and the creative process is better with a well-managed, diverse group.
Declarative statements are a common block to creative problem solving. An example might be, "My business is down 50 percent." Framing the problem differently in a question format might look like this: "What ways might I pivot to recapture my customer base?" Eckert suggests adding the question, "What might be all the ways to…" to a problem fostering more creativity than complaints.
He also suggested another way of building the creative process with "Yes, and…" statements. As opposed to, "No, that won't work because…" He likened it to learning comedy improvisation with a partner, suggesting that when one person says something you build on the direction and not block it.
Click here to listen to CAFÉ Talks episode seven: Jack Edwards, The Wine Experience.
Jack Edwards's career has carried him from a back of the house position in a New Jersey neighborhood restaurant in his teens to owning his own wine import company in Napa Valley, Calif. He developed his passion for wine through on-the-job learning, reading, and traveling, where he gained the necessary skills to now assist restauranteurs and their customers begin their own journey to the vines through his company, The Jack Edwards Collection.
Early in his career while working in the hotel industry's food and beverage side, Edwards became intrigued by wine, which led to his next position with a New Jersey wine importer. "I still remember my first sales meeting. I thought I was pretty well-versed in wine," he said. "But, five minutes into the meeting I realized I knew nothing about wine. It took me three years of two sales meetings a month learning about wine and tasting wine to be comfortable to talk with my colleagues about tasting wine." He continued how he understands when people talk about wine being intimidating because it was for him at first.
Now, his comfort level is clear and his wine knowledge top-notch. However, he says that even the most knowledgeable wine coinsurers learn something new about wine every day.
He commented how the current COVID-19 environment has not affected all wine outlets evenly. He noted that although restaurant sales nearly ground to a halt, retail outlets such as grocery stores and wine shops have significantly increased their sale volumes.
He predicts many restaurants will have sold through their wine cellars offering wine to go. When restaurants do come back online, he thinks their wine lists will be built around value and a "magic price point of $20."
He also does not believe a restaurant manager needs to have sommelier's knowledge to build a competent wine list. "I think it's important to have at least a foundational knowledge of wine," he said. "You need to have two or three sentences about the wines that make it appealing to the customer." He suggested knowing the wine's taste profile, where the wine was made, grape varieties, and an understanding of what foods pairs with different wines.
Click here to subscribe and listen to all available CAFÉ Talks podcasts episodes.
Moderated by Gold Medal Classroom Think Tank's Paul Sorgule, CAFÉ Talks podcast episodes are less than 50 minutes with three distinct sections: an interview with a dynamic expert such as chef, restauranteur, product developer, freethinker or educator; thoughtful culinary commentary by Sorgule; and a taste of inspiration from Dwight Edward.
CAFÉ Talks podcast posts a new, free episode every other week. Listeners can utilize the information as discussion points in the classroom, as professional development for culinary educators, as strategizing sessions for program directors, or just interesting and fun information for the culinarian.
Click here to read Gold Medal Classroom stories about previously posted CAFÉ Talks podcast episodes.