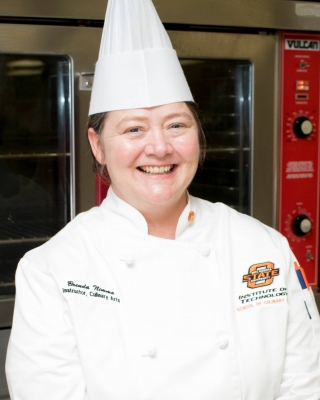 Culinary Instructor Brenda Nimmo Shares Her Reflections on Showing Up for Her Students
03 June 2021
A "Yes, Chef" attitude helped her maintain academic rigor as her institution switched to online assessments.
Professional cooks understand that success in a demanding kitchen requires personal responsibility, reliability and execution. Oklahoma State University Institute of Technology Culinary Instructor Brenda Nimmo exemplified these same characteristics and determination when faced with the teaching challenges posed by COVID-19's impact on education.
Below read her reflections on a year of online instruction and the obstacles she overcame to help her students graduate with culinary arts master-level skills.
By Brenda Nimmo
Culinary Instructor
Oklahoma State University Institute of Technology
The disruption to regular school activities due to COVID-19 was enormous.
The disruption for Oklahoma State University Institute of Technology (OSUIT) came just as our Higher Learning Commission (HLC) accreditation review was coming to a close. Faculty wrapped up the week before Spring Break 2020 with our dean's request to assemble for an all-academic meeting. I thought it would be an HLC debriefing of sorts. Instead, we advised students to take home all their textbooks in case we switched to online learning. We soon realized this advice was necessary and would not be for the short term. Our summer and fall trimesters were pushed back, and all our face-to-face courses switched to either online or blended socially distanced labs. So began a new set of teaching challenges.
Holding my students responsible for online work.
I began by holding myself accountable. My first move was to study my course outcomes and rethink how to create engaging online assignments so everyone would not drop out of the program in frustration.
Secondly, I extended grace to my students as it was extended to me by my deans and leadership teams. I accepted alternative assignments if necessary to accommodate each individual. I worked hard to make my online classroom welcoming, organized, and easy to navigate by creating how-to documents and videos so they could continue their degree path without interruption.
One easy option was to create and mail assignment packets for students with connectivity issues. I suggested a weekly Zoom meeting to boost morale. Our culinary students had a place to meet virtually with all their instructors and advisors for support, updates, and help to solve their problems. We continued to call, text, or email students that dropped out to see if we could help. Retention was the result of creativity, hard work, and sometimes flexible deadlines. We all had to shift.
Technology options used because of Covid-19 changes to classroom learning situations.
A few technical options I added to my tool chest was our Professional Cooking textbook's companion site called CulinarE. Luckily, all our students had instant access to their textbook bundle. I never got around to using it, even though it was on my list of things to explore for future courses.
Necessity is the mother of invention, so I took a crash course from Wiley and delved into their site to match technique videos to my outcomes. I also took a quick tutorial provided by my Center for Teaching and Learning staff to discover how to use Canvas' Conference tool, a Zoom-style virtual conference room. I used it in one online course as a mandatory check-in and group chat. I still use it as my virtual office. Also, I believe my students responded well to a video embedded in their assignment for feedback. I used this grading tool alongside written feedback because I wanted to provide some normalcy.
Modifying assessment requirements due to limited face-to-face classroom time.
Yes, I did modify several assessments. Yes, I believe they were successful in keeping our graduates on track. One of the biggest challenges for me last summer was to create a fully online capstone course. Again, when there is a need, teachers worldwide are finding ways of getting it done. So, if my students would keep showing up, I was determined to show up for them.
Our culinary capstone class is typically a face-to-face, three-week intensive series of cooking exams. An online capstone course was nonexistent. Good times! Every program outcome is attached to these exams at the mastery level and I had never taught the course. It was a very daunting task.
Since a 12-week internship follows the three-week exams for flexibility, we decided to give capstone students the full 16 weeks to complete it alongside their internship.
Some students had secured internships as far away as Wyoming, Pennsylvania and New York. Sadly, many of the internship sites closed due to the pandemic. Others found alternative food service jobs in skilled nursing facilities. Our students were determined to finish, so I was determined to find a way to maintain academic rigor and make the switch to online assessments.
One modification example was for a Safety and Sanitation class, usually easily assessed in the lab. I had students create a safety poster. I gave them a real-world scenario as a restaurant owner trying to stay in business and reopen while keeping customers, staff and the community safe. I provided CDC and Tulsa Health Department guidelines for restaurants.
Here are other modification examples:
packaged food boxes for pick up with the necessary ingredients
scheduled socially distanced lab time for the few on-campus students after dorms reopened
allowed students to cook from home and video the results
required students to create a script and perform a knife cut demonstration
required students to create a script and perform a cooking demonstration
used a combination of Ted Talks and Flip Grid to create a virtual reflection on Professionalism in Food Service
created community with discussion posts on their struggles to stay employed during covid
online theory quizzes using terminology and techniques pulled from all the prior courses
I kept a few of these online assignments for the newest hybrid format, and it seems my students are willing and able to shift their expectations and get it done. I think this shows tremendous grit and believe it will serve them well in these uncertain times.
So far, so good.
Editor's Note: Congratulations to Brenda Nimmo whose personal integrity and commitment to culinary education can be likened to that of a professional cook uttering the phrase "Yes, Chef" and successfully getting it done.