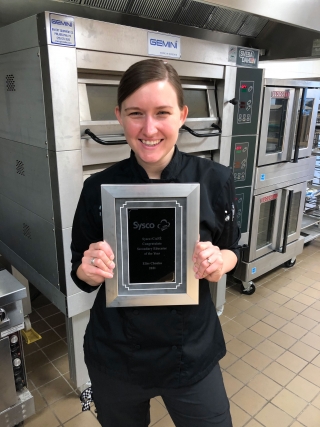 CAFÉ Honors 11 Culinary Educators and Professionals with 2021 Awards
09 August 2021
Stories highlight the outstanding, award-winning accomplishments of 11 foodservice educators and their dedication to culinary arts.
By Lisa Parrish, GMC Editor
Even though the 2021 CAFÉ Leadership Conference was canceled, we are proud to honor 11 culinary education leaders for their innovation, leadership, sustainability efforts, entrepreneurship, technological abilities and community outreach. All recipients received a plaque and will be recognized at the June 2022 Leadership Conference scheduled for Portland, Maine.
"We are proud to honor this year's award recipients for their hard work and dedication to teaching culinary arts," said Mary Petersen, CAFÉ president. "Especially this past year with all the pandemic-related changes to education, these leaders demonstrated resilience and grit as they rose to the challenge of delivering a top-notch culinary education. Congratulations to all the award winners."
Community Outreach Award, sponsored by Auguste Escoffier School of Culinary Arts
The winner is Remy Robert, New Orleans Culinary & Hospitality Institute (NOCHI), Louisiana.
Honorable mention to Southern Smoke Foundation, Houston, Texas.
Postsecondary Educator of the Year Award, sponsored by Sysco Corporation
The winner is Rich Grigsby, Florida State College at Jacksonville, Florida.
The runner-up is Dr. Jennifer Denlinger, Valencia College, Kissimmee, Florida.
Secondary Educator of the Year Award, sponsored by Sysco Corporation
The winner is Mary Elise Chonko, Chesterfield Career and Technical Center, Midlothian, Virginia.
Entrepreneurship Award, sponsored by Kendall College
The winner is Elizabeth DeRose, Frederick Community College, Frederick, Maryland.
Green Award, sponsored by United Soybean Board
The winner is Dr. Jennifer Denlinger from Valencia College, Kissimmee, Florida.
Innovation Award, sponsored by Idaho Potato Commission
The winner is Wook Kang, Kendall College, Chicago, Illinois.
Technology Award sponsored by Mercer Culinary
The winner is Debra Bates, Lancaster HS/Stanbery Career Center, Lancaster, Ohio.
The runner-up is Ezra Eichelberger, Culinary Institute of America, Hyde Park, New York.
Champion Award, sponsored by CAFÉ
The winner is Chef Paul Sorgule Paul Sorgule, president of Harvest America Ventures, based in Saranac Lake, New York.