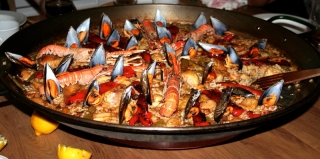 Go Beyond Instructing Single Global Flavors
31 January 2022
Teaching cuisines from the world may mean not being limited by borders.
By Lisa Parrish, GMC Editor,
and Chef Andrew Hunter, Kikkoman Sales USA Executive Chef
Feedback & comments: This email address is being protected from spambots. You need JavaScript enabled to view it.
The global flavors trend is still going strong this year. However, what's new in 22 may come as a surprise with worldly mashups taking center stage. Consumers from Gen Z to the well-traveled baby boomers are searching for familiar far-away flavors and textures with a twist.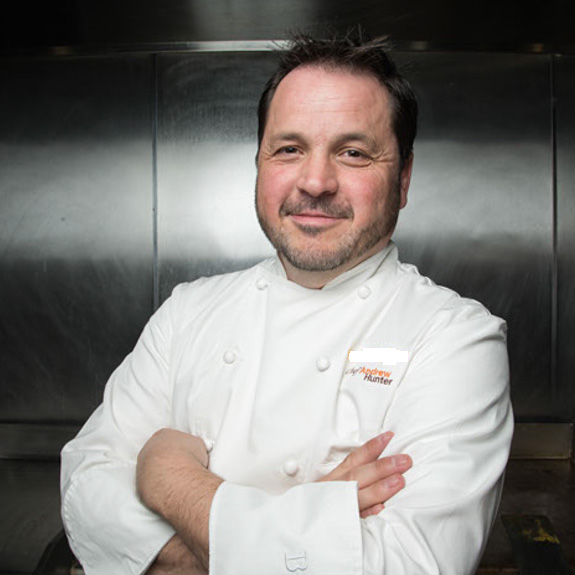 I recently asked Kikkoman Sales USA Executive Chef Andrew Hunter for his insights on how the global flavors trend will morph and change during the upcoming year. He touched on why global flavors are still solidly showing up on menus across the nation and which country's flavors will take off next. He also discussed borderless cooking and what culinary students who are interested in creating international flavor fusions should know.
Why are global flavors still trending across US menus and how long do you predict this trend will continue?
Global Flavors will always be popular because they provide a unique experience for diners. People want more than a bowl of noodles, they want the noodles to be sourced, cooked, seasoned and presented as they would be in Tokyo, Shanghai or Rome. Because chefs from around the world apply a different sensibility to their ingredients and cooking methods, consumers get to experience a sense of adventure. Global flavors are a way to escape the daily doldrums and satisfy the desire to travel and explore the world.
I think the quest for global flavors is embedded in the consumer psyche regardless of societal challenges, including the pandemic. Consumers might feel trapped due to the pandemic but most can't afford to travel to exotic destinations even in the best of times. Restaurant plates featuring global flavors will always be a popular way to experience different destinations without leaving town.
Which geographical area's cuisine will take off this year and why?
Japan's (the country's cuisine) is possibly the world's most perfect cuisine. Chefs can draw on a rich cultural and historical heritage, umami-focused ingredients like traditionally brewed soy sauce and cooking techniques with presentations that can be considered fine and meticulous or casual and home-style. We tend to focus on sushi when we consider Japanese food. But Japan is as much about tonkatsu, curries, croquettes, and steaming bowls of noodles and broth. I'm no linguist, but I think because the Japanese language can be sounded out in syllables, we can pronounce simple words like yuzu and more complex words like okonomiyaki with confidence. The most perfect cuisine is combined with a culture and language that are comfortable for consumers, making Japanese food a trend for years to come.
China continues to grow and expand on America's plate as well. Chinese food, like Italian, is almost American because it's represented in urban, rural and suburban community restaurants. We mostly know Cantonese flavors, but as our palates become more sophisticated, we're looking for regional specialties like Sichuan hot pots, Hunan smoked pork, Jiangsu braised meats and Shandong seafood.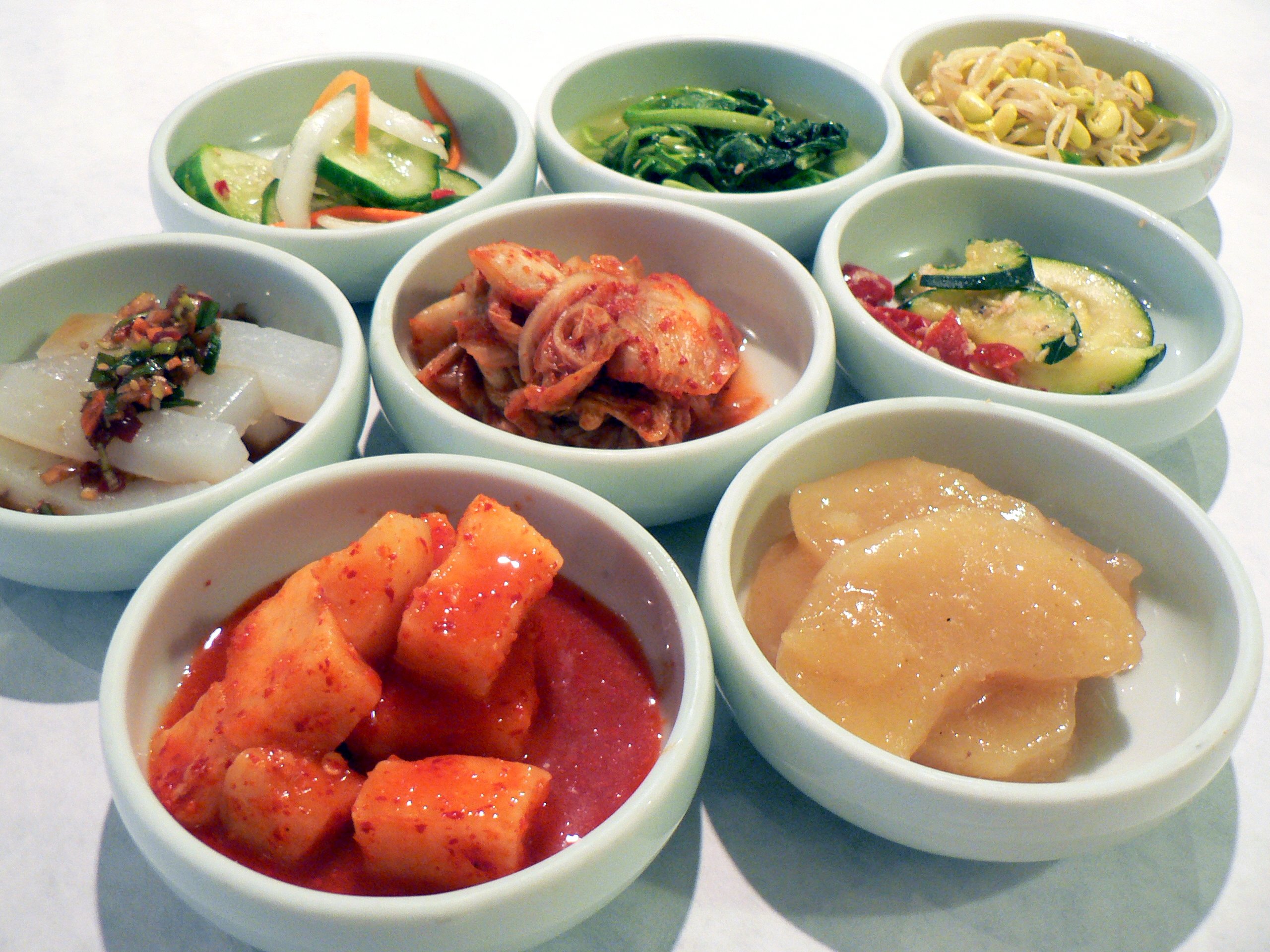 Korea completes the trifecta with its grill cuisine that's a masterful combination of sweet and smoky delivered with rich and flavorful marinated meats, seafood and mushrooms. And the concept of banchan, assorted side dishes served with a Korean main course, creates a fun and festive table to share a meal with family and friends.
What international ingredients do you see becoming popular in the future looking into your crystal ball?
Levantine cuisine is from countries we call Eastern Mediterranean. These countries include Israel, Lebanon, Cypress, Turkey and Greece, and although all are culturally diverse from each other, they share a similar flavor matrix and the Mediterranean health halo - fish, fresh herbs, citrus, tomatoes, olive oil, and garlic. Cooking methods include meat grilled over charcoal fires and bread baked in stone ovens. Hummus, dolma, lavosh, shish kebab, falafel, long grain rice, yogurt and baklava, often with different spellings and flavor nuances, are all served at Levantine tables.
What is borderless cooking and why do you think these cuisine-fusing flavors are becoming more popular?
This concept, best described as borderless cooking, is similar to the idea of world cuisine. Common examples include smashing together ingredients and techniques from Japan and Peru, Mexico and Korea, and Japan and Italy. For me, the key to success is finding the ingredients and methods that are shared, and then combining the sensibilities of both kitchens to make something that's harmonious and delicious.
Borderless cuisine is an advanced concept to pull off though and not recommended until a chef is experienced and mature in their craft. Nobu is the master of smashing together Japan and Peru with his signature Tiradito … raw fluke filets cut sashimi style with rocoto chile, fresh cilantro, yuzu and lemon juices, and sea salt. The sashimi and yuzu are Japanese, the lemon makes the sashimi Peruvian ceviche. The rocoto and cilantro are also Peruvian while the presentation is elegant Japanese. Nobu's Tiradito is a masterful layering of borderless flavors.
While attending Worlds of Flavor, I worked with Diego Oka, executive chef at La Mar by Gaston Acurio in the Mandarin Oriental Hotel in Miami. There, we talked about one of his signature dishes, Cebiche, "The dish was inspired by country in which it was born – Peru. We wanted to capture a dish that represented the cultural spirit and flavors of Peru while highlighting the heritage and precision of Japanese technique; and then of course bring local relevancy to the dish by utilizing locally sourced ingredients!"
Discuss WaFu and why you feel Japanese and Italian cuisines fit together so well.
WaFu are western dishes cooked with a Japanese-style. It's common to substitute spaghetti for rice in the most beloved WaFu preparations. WaFu dishes are typically rich in umami and substitute Japanese ingredients for western ingredients. One of my favorite dishes includes spaghetti sauced with soy sauce-rich dashi broth, topped with lots of bonito flakes, shimeji mushrooms, spring onions and a soft poached egg. Another memorable experience was eating WaFu pizza near the Kikkoman plant outside Tokyo. Instead of tomato sauce, this pizza featured moromi and julienne leeks.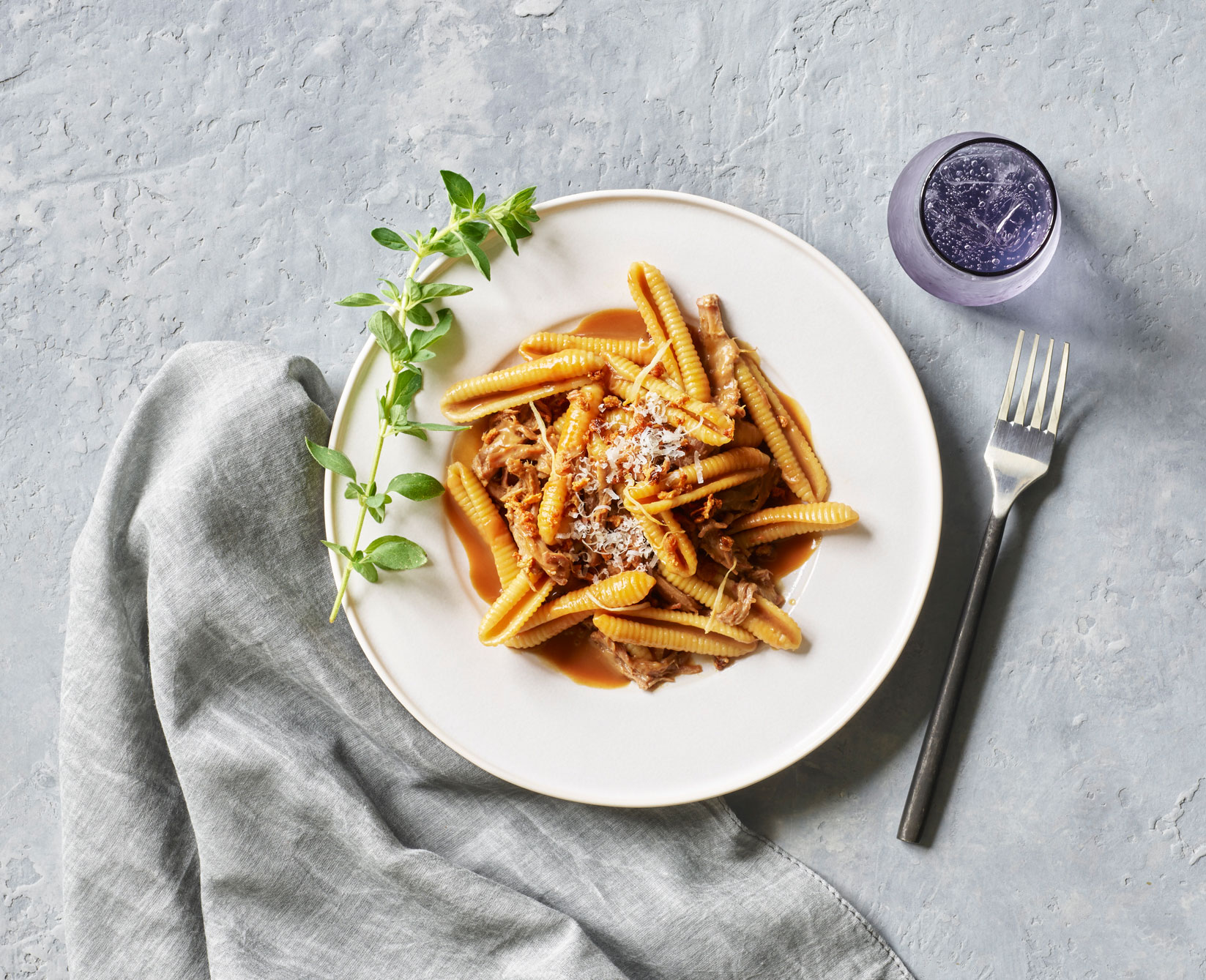 Japanese and Italian cuisines fit well together because both understand how to leverage umami-rich ingredients. Umami is delivered by ingredients that have been fermented, aged, dried and brewed, especially ingredients that are also rich in amino acids. Now imagine pizza … it's built on fermented dough, topped with umami-rich tomatoes, aged cheese and meats, and then topped with fresh herbs. It's no wonder that Japanese people love Italian food. WaFu is their respectful nod back to the Italians with similar compositions but with distinctly Japanese ingredients like bonito, moromi and traditionally brewed soy sauce.
Another example of an WuFu Italian-style dish is ginger, soy pork ragu with sesame ricotta cavatelli.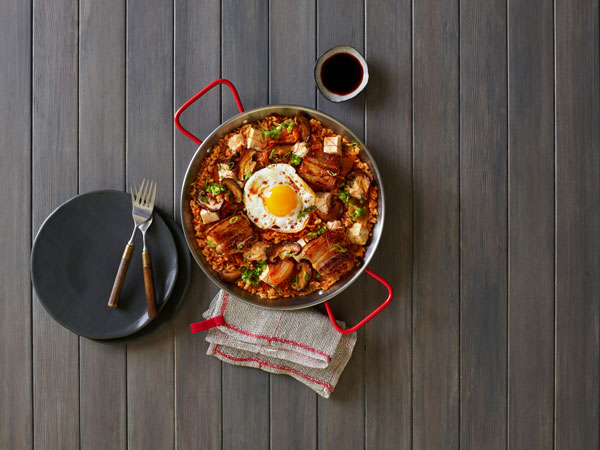 Korean Paella blends Spanish and Korean cuisines. How do you feel these two cultures and ingredients play with each other?
Rice is possibly the most consumed ingredient in the world. It has immense cultural, economic and even religious meaning to people. Many rice dishes feature a scorched bottom ensuring some of the rice is crispy while some is light and fluffy. The scorched rice in Spanish paella is called socarrat while the same crispy rice in Korean bibimbap is called nurungji. Beyond the crispy bottom layer, both dishes feature ingredients based on what chefs have access to. Chefs in seaside towns on the Andalusian coast will have access to fresh cuttlefish and shrimp, mussels and langoustines. Chefs who live inland are more likely to use chicken and pork. Ingredients that are common include chorizo, beans, peas and fresh herbs.
If you were teaching a culinary class on cuisine fusion, what three things would you want the students to know?
1) Select two cuisines that you have experience cooking, preferably a personal/cultural connection to at least one of the cuisines.
2) Research ingredients and cooking methods so you understand the differences and similarities between the two.
3) Prepare, refine, redo and prepare again until you're confident in the plate before serving.
Photos courtesy of Kikkoman USA and Stuart Spivack.