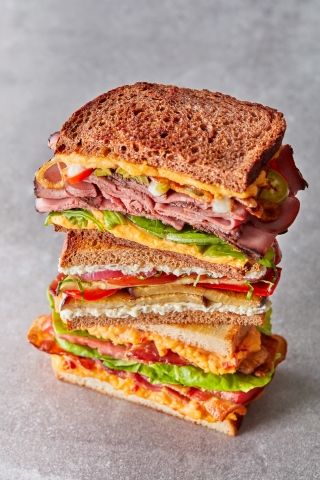 Stacked Sandwiches Standing Out
06 June 2022
See tempting sandwich trends that messily run the culinary gamut.
By Michael La Kier of Sandwich America
Feedback & comments: This email address is being protected from spambots. You need JavaScript enabled to view it.
Whether people call it a grinder, sub, hoagie, or club, one thing is for sure: Americans love sandwiches. In fact, people who live in the States eat about 300 million sandwiches every day. A quick search on Instagram shows over 13 million posts to sandwich-related hashtags.
Sandwiches are on a menu growth trajectory. Although they shrank by about 10 percent during COVID, according to Dataessential sandwich adds to menus are up 6.5 percent over the past three months.
Sandwich America, founded to unite people to celebrate their love of sandwiches, recognizes the sandwich and the fact it crosses into every culinary trend. Whether it is quick and simple, ethnic flavors, elevated gourmet ingredients, farm to table food, or healthy lifestyles, sandwiches fulfill every culinary need.
Here are five sandwich trends from Sandwich America's Instagram account (@sandwichamerica) highlighting examples across the USA from restaurant menus to home chefs.
International flavors are here to stay – We mostly stayed put during the COVD pandemic and food was a way to explore without leaving home. Our food has long been influenced by other cultures and that's never been more true than today. Fifty-eight percent of Gen Z and 48 percent of Millennials ate globally influenced food within the past week. (Dataessential)
Keema Pav Wagyu Beef served on "gun powder dusted" buttery house-made pav bread.
Katsu Sando Curry Dip – Your choice of protein on brioche bread with gem lettuce, cucumber, tomato, Rakkyo salsa, sour cream sauce, Worcestershire and chives with a side of original or spicy curry for dipping.
Tikka Masala Lamb Ham Bistro Club – Bistro cheese spread (Boursin cheese, crushed tomatoes, tarragon, lemon, salt & pepper), baby spinach, lemon, olive oil and cucumber on a lightly toasted rosemary focaccia bread.
Cheese brings it all together – From the Instagram-worthy cheese pull to a spread that holds it all together, cheese is king. We're now seeing sandwiches go beyond the traditional slices of American and Cheddar to include traditional staples from the mid-west (beer cheese) and south (pimento cheese) included in new ways.
Grilled burger topped with house-made beer cheese, bacon, BBQ sauce, sauteed mushrooms, lettuce, tomato and onion straws.
Philly cheesesteak – Marinated ribeye, caramelized peppers and onions, and white American, provolone and mozzarella cheeses.
Meats out of the mainstream – Of course, you can't go wrong with the traditional, but we are seeing new experimentation. Beyond just the Italian meats, we're seeing some very cool offerings like lamb pastrami, bison and more. Not too far out there, but delicious options.
Aussie Select Lamb Pastrami Sandwich with Russian dressing, gruyere and pickle planks. (NOTE: Award-winning Aussie Select pastrami according to Progressive Grocer and Prepared Foods Magazine)
Italian Sub – Hot capicola, prosciutto, lettuce, tomato and cheese.
Elk burger with garlic aioli, smoked cheddar cheese, pickles, red onion, tomato and lettuce on an onion bun.
Let's make a mess – A sandwich is the original handheld. It's the perfect canvas for culinary creations, and we're not afraid to get messy. Maybe not the best for takeout, but oh so delish.
Avocado, mushrooms, mozzarella and Boursin cheese.
Honey sriracha glazed fried chicken sandwich with Merken spice, toasted sesame seeds, mayo, sweet and sour pickles and citrus slaw.
Over-the-top fun – The traditional ham and turkey sandwiches are great, but they can also go big and bold.
Photos courtesy of Bel Brands Foodservice.