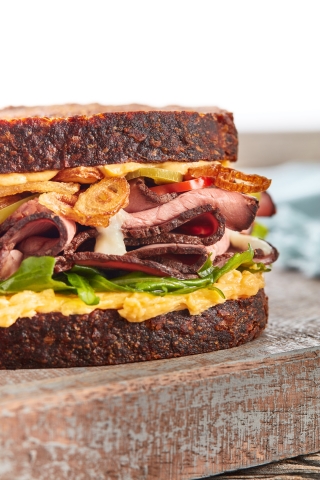 A Sandwich Build Revolution
06 June 2022
World Sandwich Champion discusses how today's builds take culinary trends over the top with inventive ingredients, textures and tastes.
By Lisa Parrish, GMC Editor
Feedback & comments: This email address is being protected from spambots. You need JavaScript enabled to view it.
Building the perfect sandwich is similar to constructing the perfect plated dish. Each layer of the build requires thoughtful ingredients and the perfect seasonings. The textural contrasts are planned and perfectly executed while the limited ingredients are selected for their huge flavor impact. Each sandwich layer is designed to provide maximum impact.
Today's sandwiches can be (nearly) plated, delicious affairs and a far cry from yesterday's handheld dry ham and American cheese on stale white bread.
I asked 2013 World Sandwich Champion Jennifer Daskevich for her take on teaching how to build a better sandwich. The founder of Sandwich America (@sandwhichamerica) and owner of Deviled Pig in Tampa, Fla., said strategy and planning are the keys to sandwich success.
How is a handheld sandwich recipe different from a plated recipe or application?
A sandwich build is no different than any other recipe build. If you skip the sandwich seasoning in any aspect, it will not be the best it can be. Protein, bread, cheese, and condiments should all be part of the seasoning. For example, the Shipwreck sandwich at Deviled Pig starts with the smoking of the turkey, pork belly and pulled pork, which are all seasoned and smoked separately. The mustard sauce is made from scratch and seasoned at every level from the sautéing of onions and butter to the addition of apple cider vinegar to add the zing. The fresh-baked, local Cuban bread is toasted with butter and the coleslaw is seasoned and made fresh. Also, the slaw is not over-sauced so the sandwich stays crisp. A sandwich will not have the full and balanced flavor it can have if you forget about any component. Seasoning at every level and thoughtfulness in every ingredient is necessary to make the perfect sandwich.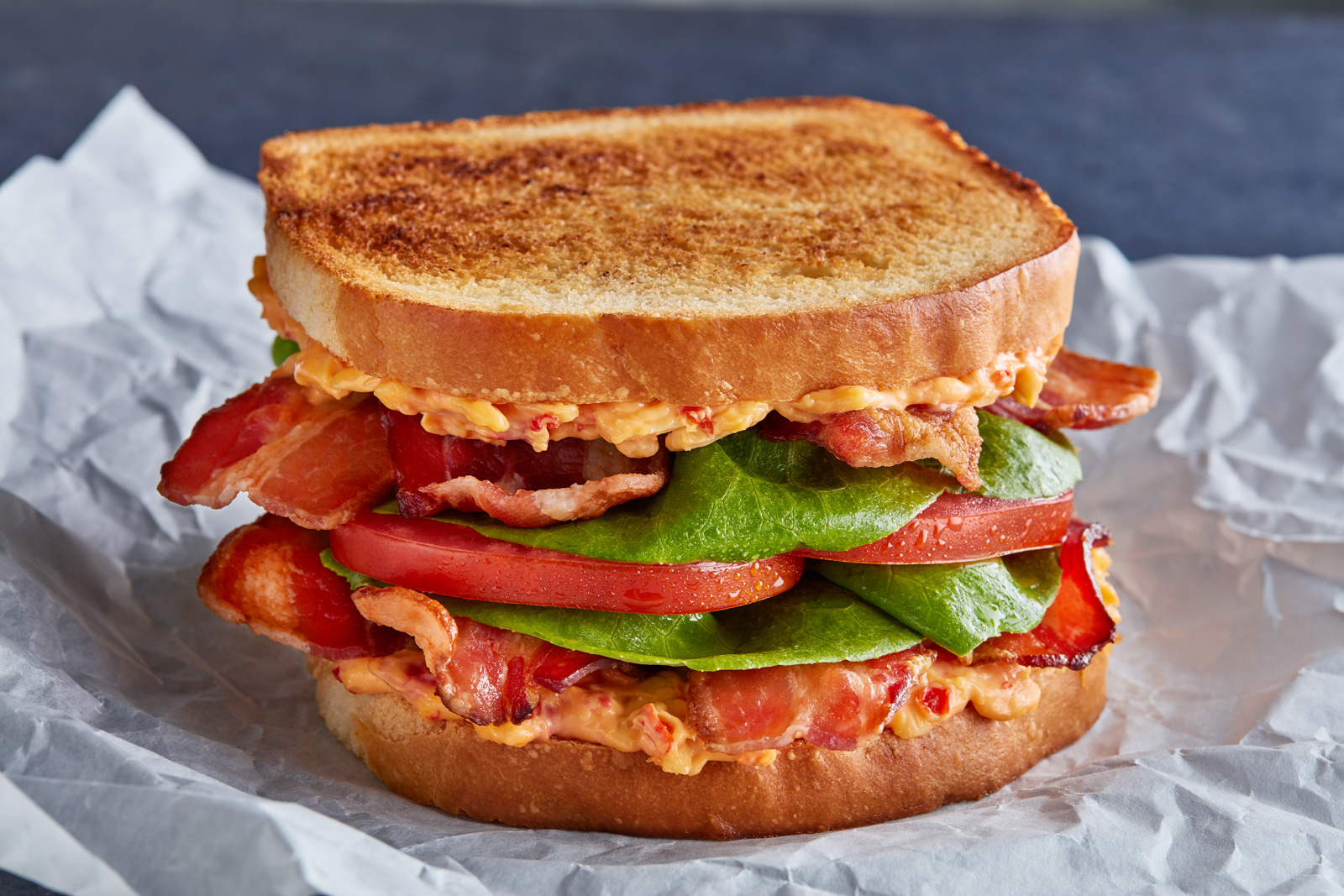 Texture is an important aspect of any dish. How does it impact a sandwich?
When building any recipe, you want to consider textural contrasts and a sandwich is no different. The Pimento BLT is a great example of many textural contrasts. The crispy bread toasted with bacon fat, the soft and creamy pimento cheese, salty crispy bacon together with fresh crisp lettuce all come together to help create the perfect bite.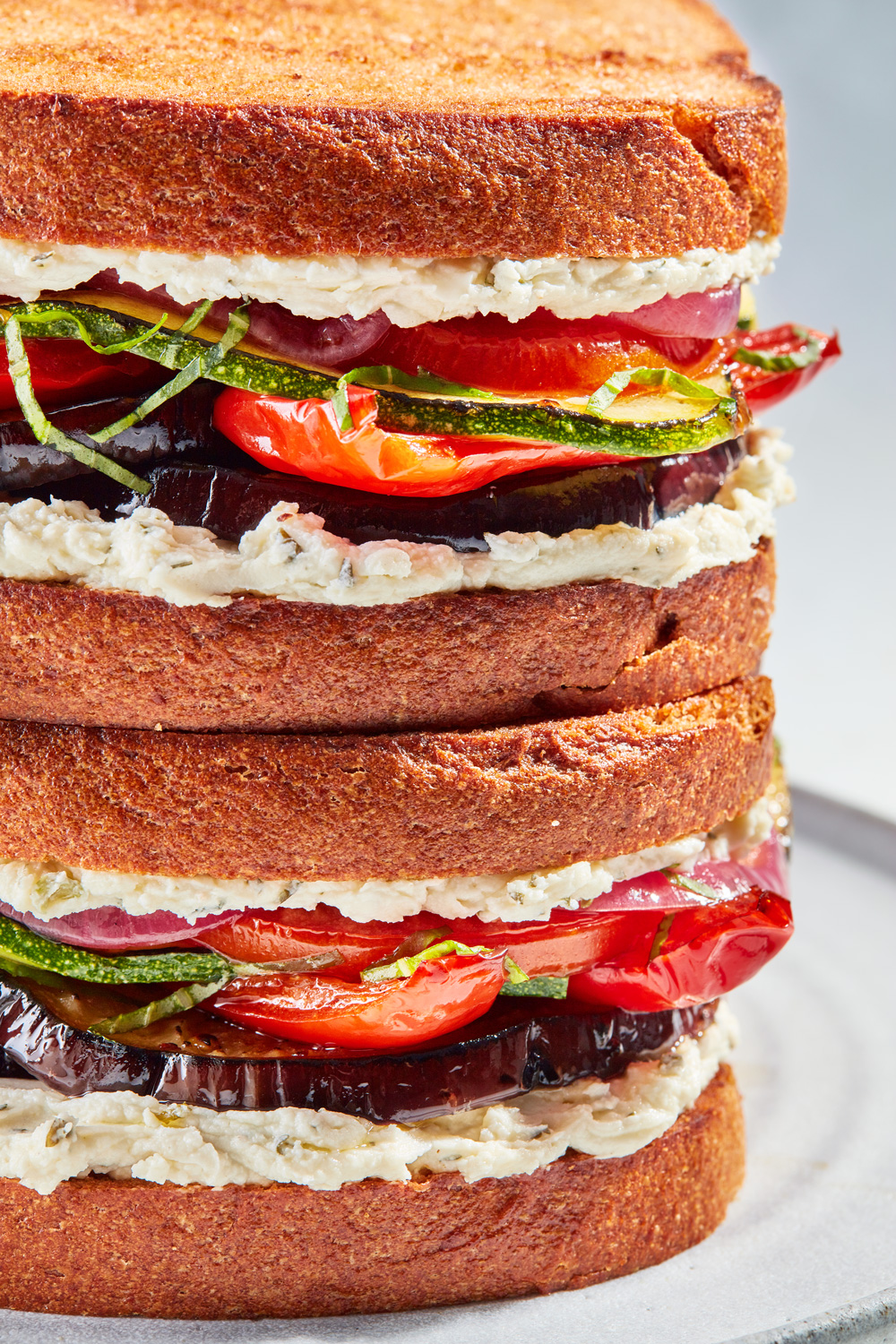 Can you provide general guidelines on selecting ingredients for bread, cheese, protein, vegetables and condiments?
I like to look for ingredients that have a lot of bang for their buck. For example, instead of just a French baguette try a rosemary sea salt sourdough to add another layer of flavor. Flavored cheeses are a great power punch and a secret ingredient. Some of my favorites are Price's Pimento Cheese or Boursin Garlic and Fine Herbs Gournay Cheese. I created a Mediterranean vegetarian sandwich with grilled vegetables and the garlic and herb Boursin cheese provided a creamy contrast to the crispy bread as well as rich flavors to blend with the vegetables. Proteins should be seasoned as if they were going to be used on their own. If you wouldn't eat it by itself don't put it in a sandwich. Vegetables should be fresh and dry. Pat your tomatoes and lettuce dry and season every layer of the sandwich.
Can you give an example of a delicious sandwich flavor combination?
A sweet and spicy sauce is a great kitchen staple to have on hand to add to all kinds of delicious sandwiches. A mango or pineapple salsa made with fresh chunks of fruit, diced jalapenos, lime, red onion, cilantro, and salt is a great condiment that can be paired with any number of sandwiches, including a fried or grilled chicken sandwich.
The Deviled Pig Shipwreck sandwich is a good example of flavor combinations. The bread is toasted fresh then the cool mustard sauce is drizzled on the bottom bread slice. Then fresh cool slaw is spread on the mustard and topped with warm meat. It's finished with more mustard sauce. The cool slaw and the warm rich meat provide a great contrast.
Can you discuss the difference in sandwich builds for different dayparts?
How the sandwich will be eaten is the most important consideration when creating a build. Does it need to be packed to go? Will it be eaten hot or cold? Is it a handheld or plated? Will the sandwich be fresh or from a lunch box? If it is plated and hot the sky is the limit. For breakfast, you should think of eggs and any number of bread vehicles like croissants, bagels or English muffins. When building a dinner sandwich, I again like to think of my favorite meals and incorporate them into a sandwich. Chicken pesto with mozzarella and tomatoes. And for a picnic, sandwiches that don't need to be refrigerated like the Mediterranean vegetable sandwich would be perfect.
What is your favorite sandwich and why?
I love sandwiches that take a meal and turn it into a sandwich. A chicken parmesan sandwich is one of my favorites, but not with shortcuts. It should be a rich, delicious tomato sauce made fresh and seasoned properly. Crispy fried chicken cutlets and fresh mozzarella on seasoned and toasted bread. I also love the Pimento Cheese BLT. The contrast of flavors and textures just creates the perfect bite in your mouth.
Photos courtesy of Bel Brands Foodservice.