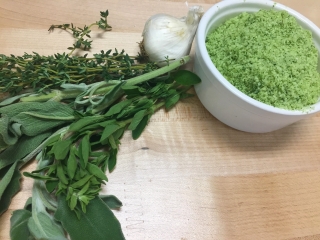 Initiative to Reduce Food Waste at Valencia College's Poinciana Campus
01 November 2021
Actively encourage students to participate in and create food waste reduction concepts.
By Dr. Jennifer Denlinger, CCC, CHEP
At Valencia College's Poinciana Campus, our Culinary Management Program has taken the initiative to help educate our students about the reduction of food waste. Given the importance of this topic in the industry, it seems a perfect fit to incorporate into our current curriculum.
We approach food waste reduction through Value Added Demos (VAD). These are not necessarily written directly into the syllabus; rather, they are given as enhancements to existing lessons – extra tidbits of information students may find useful and are supplemental to the primary learning objectives. We hope this will foster creative and critical thinking patterns in the students, encouraging them to think beyond what is expressly presented in the curriculum.
Our instructors and lab supervisors embrace the topic of food waste reduction through VAD with enthusiasm. One way we have worked toward helping students understand this problem is through employing a composting system to collect food scraps and other materials, which go into our gardens. We also migrated to wooden tasting utensils, which can then be disposed of in our composting bin.
Though we are a small program, we have wide-reaching ambitions. We want to show our students how they can contribute to a better, more productive society through the foodservice industry. Throughout our discussions, students have taken it upon themselves to further investigate ideas. By creating a learning environment that promotes constructive-based criticism, as opposed to judgment-based criticism, we hope to give students an active learning environment promoting the generation of ideas, free from fear of criticism in case of failure. Students are actively encouraged to try new ideas, especially when it comes to using up products.
Here are a few of the students' creations:
The success of our efforts to reduce food waste can be shown through the students' enthusiasm to try new ideas and participate without hesitation. The Standard Operating Procedures are designed throughout the program to reduce food waste, compost and recycle. These guidelines include daily prep lists that include a host of VAD ideas in case there is an opportunity to create something unexpected with the food waste. Our lab assistants and culinary interns are responsible for ensuring we are mindful with our food waste and practice the correct HACCP procedures and documentation required.
We have a document that chef instructors and lab assistants use as a guideline to help us be successful in instilling creative thinking outside the box in a safe and productive manner.
---
Dr. Denlinger earned the 2021 Green Award sponsored by the United Soybean Board. Click here to read a Gold Medal Classroom story featuring her award applications.
Chef Jennifer M. Denlinger, PhD., CCC, CHEP, is the Culinary Management Program Department Chair at the Poinciana Campus of Valencia College. She is also the vice president of ACF's Central Florida Chapter. Additionally, Chef Denlinger earned the 2020 Innovation Award, sponsored by CAFÉ and the Idaho Potato Commission, for a creative escape room based on safe food handling procedures. She also earned the 2021 Green Award sponsored by the United Soybean Board and was runner up in 2021 for the Postsecondary Education of the Year sponsored by Sysco Corporation.