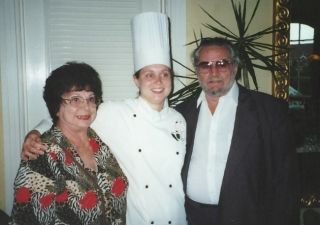 In Search of Grandmothers' Recipes
30 December 2021
Finding and cooking family recipes is like discovering childhood comfort and peace.
By Dr. Jennifer Denlinger, CCC, CHEP
Feedback & comments: This email address is being protected from spambots. You need JavaScript enabled to view it.
When people ask me how I learned to cook, the go-to answer is always my grandmas.
I was lucky enough to have three grandmothers who loved me very much. The comfort I found in their kitchens drew me into this crazy world. Their recipes were not only of love but also the necessity of the time while using available ingredients. I was fascinated by the processes and even more by the results.
My family very rarely ate fancy growing up. And when we did eat fancy, it is a far cry from the fancy, luxurious and scrumptious delights I take pleasure in now. However, there are times in my life when I need comfort food and I start remembering the foods I loved from my childhood. My comfort foods came from the meals I ate at my grandmothers' houses.
Grandma Maxene created midwestern culinary creations. Grandmother Mary's (Mummum) kitchen was full of fresh vegetables and fruits from the garden. Grandmother Juanita (Nini) cooked from food raised on the farm in Ohio. All three of these people taught me how to love food and understand their love for me in preparing the food.
Grandma Maxene
I earned my first Brownie Scouts badge with Grandma Maxene baking an apple pie from scratch. Her kitchen was always full of culinary creations that may not have been exciting but were always made with a flare of love and nurturing. Meatloaf, potatoes au gratin, fresh sliced tomatoes, lots and lots of casseroles, and a treat as a kid: applesauce cooked with red hot candies so it was bright red and cinnamon flavored. We were never denied time in the kitchen.
My holiday meals are still adorned with creations she indoctrinated into our lives: chipped beef dip, broccoli cheese casserole, hash brown casserole, sweet-vinegared cucumbers, and pumpkin pie no matter what time of year. Our special treat was poppy-can biscuits, turned into donuts, fried in a small fry-daddy, and tossed in cinnamon sugar. (This is probably why I am obsessed with donuts.)
Grandma Maxene picking tomatoes at the community garden.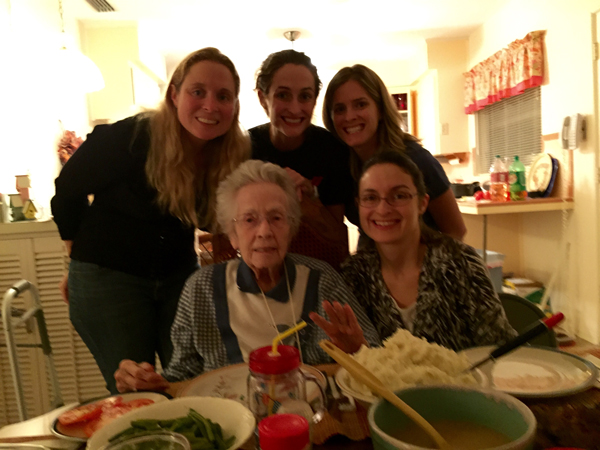 Grandma Maxene. I am on the far left.
Grandmother Mummum
These grandparents transplanted to Florida from Cape Elizabeth, Maine. Mummum was wheelchair-bound from a young age after being inflicted with a bad polio vaccine. She still provided for us. My grandfather grew all sorts of squashes, eggplants, cucumbers, lettuces, tomatoes, potatoes, navel oranges and grapefruits in his garden. There were trellises of green beans and clumps of dwarf bananas in the back. There was almost a steady supply of tomatoes on the windowsill finishing their ripening process and a bowl of cherry tomatoes that were like candy on the table for us to snack away at our desire. In citrus season, my grandmother would sit in her chair and peel navel oranges to eat. Hands of dwarf bananas would sit in the Florida room slowly ripening, perfect portions for us kids.
Food wasn't fancy, but always fresh. I remember eating boiled yellow squash tossed in butter, salt and pepper. It was one of my favorites and made it to the table a lot. Mummum always put meals on the table like seafood, tuna noodle casserole, chocolate cake and ice cream sauce, fruit Jell-O, or a myriad of other things. I'm sure my love of fruits and vegetables came from the fact that we always had a steady supply coming from their house.
At the end of the night when Mummum retired out of her wheelchair, it was usually with a bowl of chocolate ice cream. She also was known for making a birthday ice cream sauce served over a box mix chocolate cake. Ice cream sauce is a super sweet, beaten vanilla custard enriched with fresh melted butter. It was super decadent and sweet. I now make it once a year for my mom's birthday. I also transformed the ice-cream sauce into fluffy eggnog sauce to adorn fresh ginger cake for the holidays.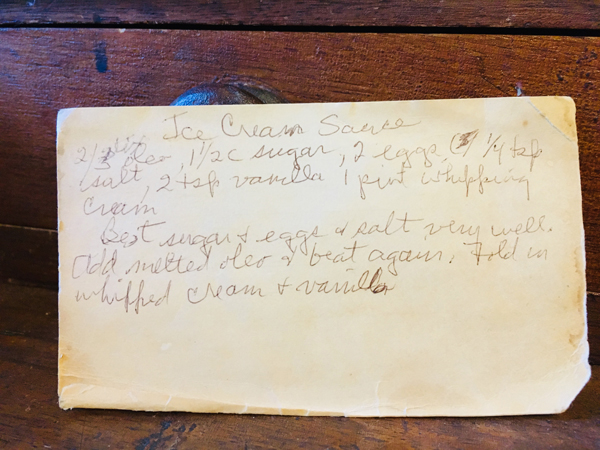 The infamous ice cream Sauce in Mummum's handwriting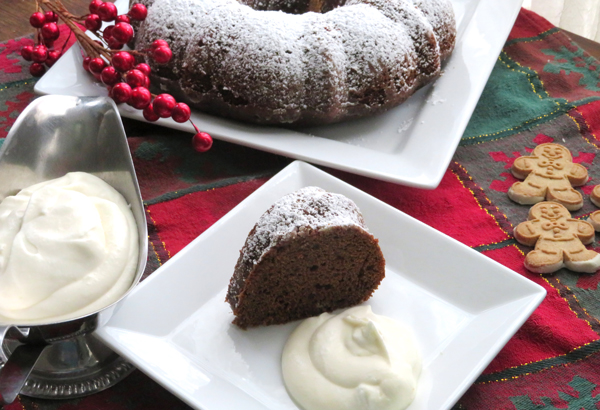 fluffy eggnog sauce with ginger cake
Grandparents Buppa and Mummum
Grandmother Nini
My grandmother Juanita (Nini) grew up on an Ohio farm. Orphaned at a young age by the death of both her parents, she was taken in by her much older brother. Nini was the quintessential farm cook where everything was always homemade. Growing up on a farm meant that food was fresh and sometimes plentiful.
One of my favorite projects with her was canning. The first thing she ever showed me how to do was canning tomatoes. We put up Roma tomatoes. I thought it was so neat! The next time we put up strawberry jam. Now I'm hooked on the process and like to "put up" things. Spring is always prevalent for fruit and so now we have "jam sessions."
I share this process with my students and they are always wowed. I tell them I learned how to can from my grandmother and they get really excited.
Nini also was known for her cooking ability. As a child, I remember food always being homemade with lots on a table. Even when she worked, she would still come home and prepare a full meal from scratch almost every night. It wasn't fancy food – just good food. Vegetables boiled down with pieces of pork, roasts of meat, potpies, rolls, casseroles, and always dessert.
Nini loved to bake pies. In Dayton, Ohio, where she lived the first part of her life, she used to prepare pies not only for the small restaurant they owned, but also to be sold to the other area restaurants. She would rise at 2:30 a.m. and make over 30 pies a day. They included sour cherry, apple, peach, custard, chocolate, strawberry, pumpkin, and lemon meringue just to name a few. The most well-known pie she made (at least amongst my family) is squash pie. Very similar to pumpkin pie, Nini's squash pie is light and delicate with the essence of nutmeg and made with an heirloom Cushaw squash.
One of my favorite recipes Nini made was her chicken potpie. Not a casserole, but a form of dumplings slowly simmered in a rich broth. Sometimes it was chicken, sometimes it was turkey, sometimes it was beef. It is so hearty and satisfying to the soul. And she usually served it with said meat accompanying it. If there was no meat to be roasted, she pulled a jar of homemade broth from the freezer.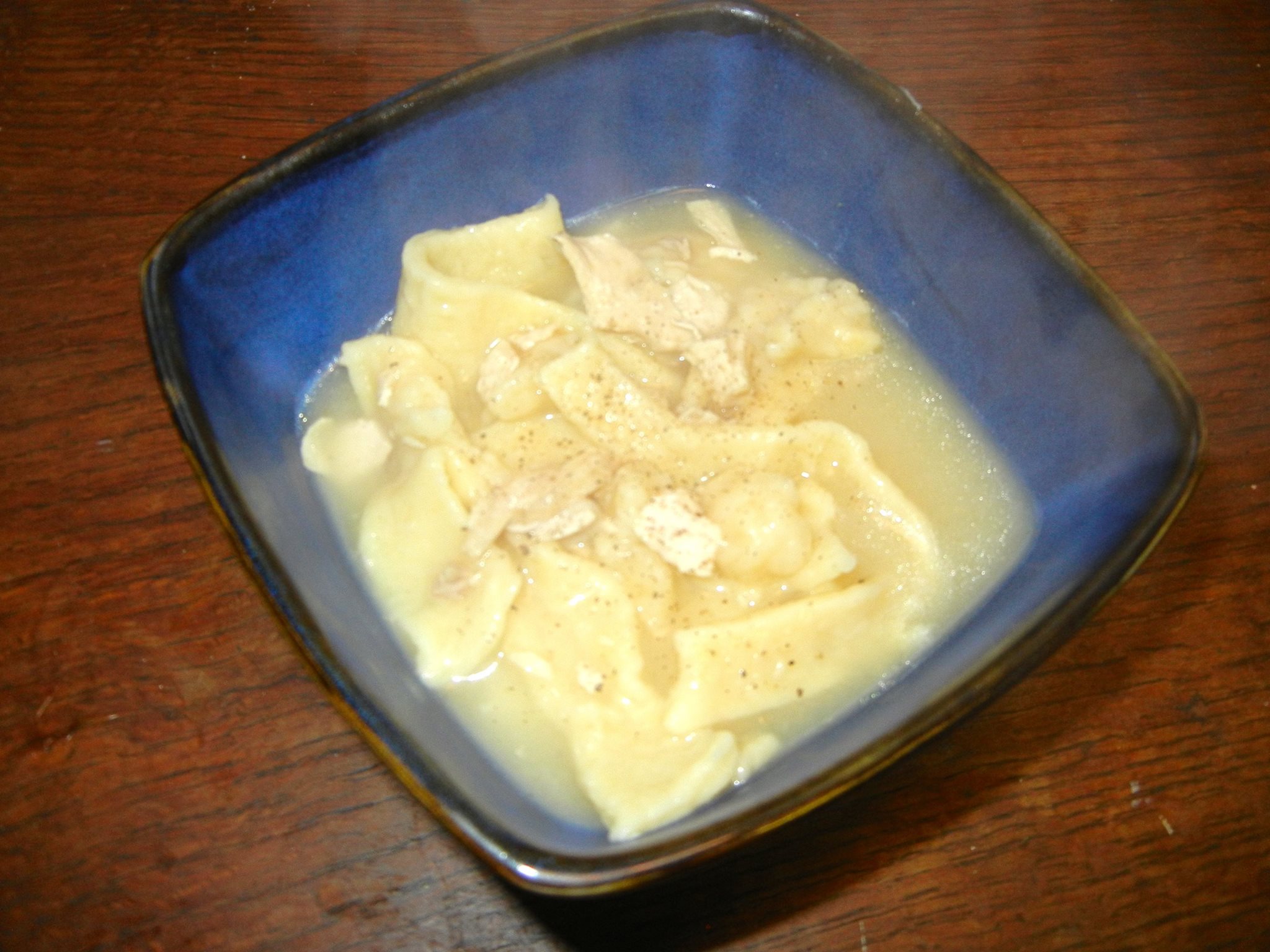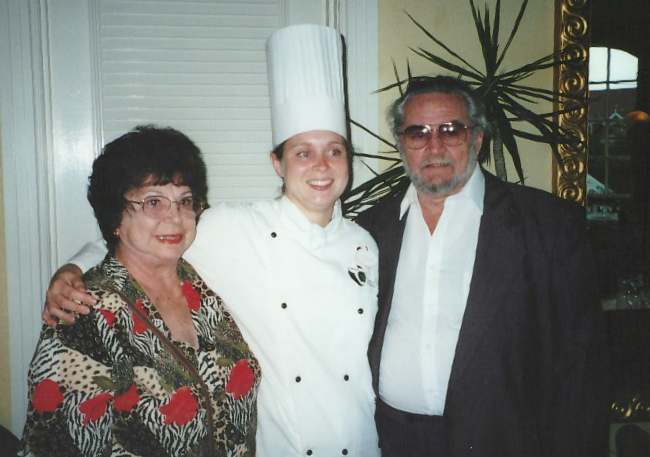 Nini and Poppop at my culinary school graduation, September 13, 2001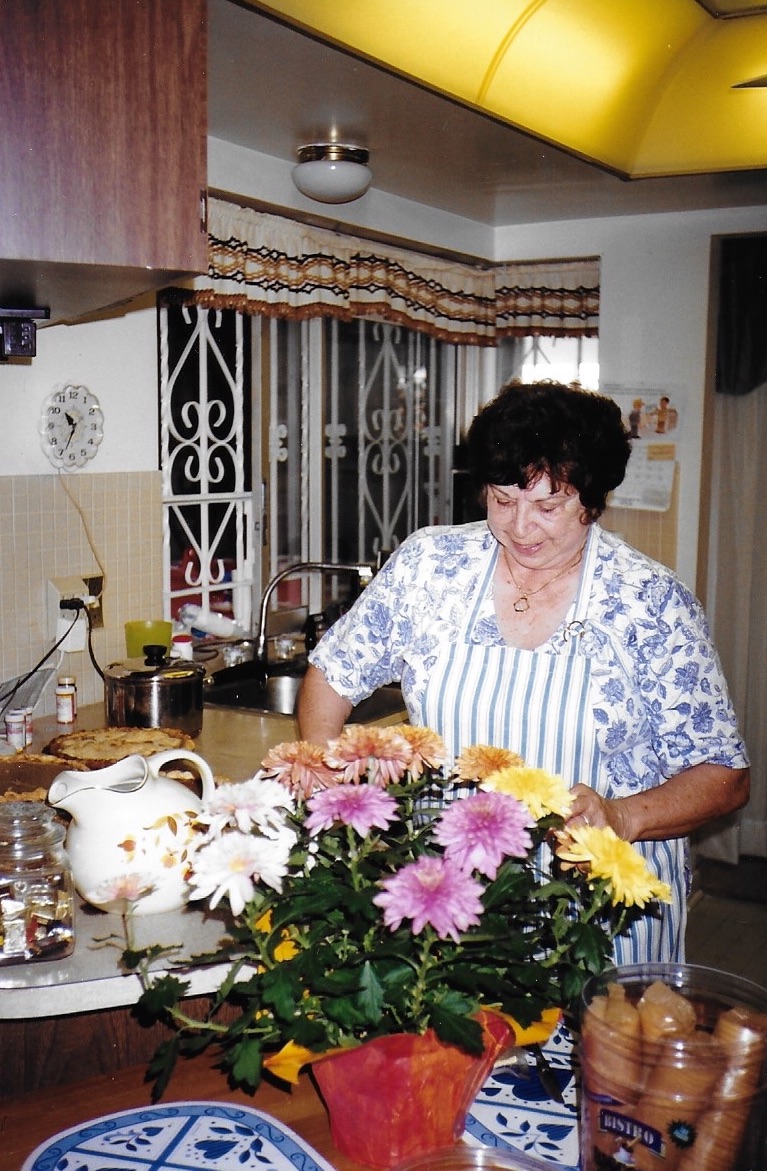 Nini in her kitchen. Note the pies in the background.
Family Cookbooks
There is a long tradition of recipe sharing in my family. We assembled a family cookbook before a family reunion in 1991. Pages and pages of recipes were submitted, typed up and bound with a plastic spiral strip. Everyone could contribute. The book even had a "kids' corner." The first section of the book contained selected recipes from my great-grandmother. We added these recipes to make sure everyone in the family had a copy in their kitchens.
I have my grandmother Mummum's hand-written recipe book full of her favorite recipes, clipped newspaper recipes and shared recipe cards. My sisters have recipe cards from my grandmothers, (written in either the grandmothers' handwriting or my sisters' writing when a grandmother was no longer able to write well).
All these precious jewels show our family's cooking tradition and will ensure the traditions continue for generations to come.
Even though my grandmothers are no longer with us, their legacy remains written on these cards and in these pages. The food cooked from their recipes at our holiday parties and on our dinner tables reminds us of their love and ensures their memories will never be forgotten. The memories of carefree days spending time with your grandmother feels like comfort and peace.
---
Chef Jennifer M. Denlinger, PhD., CCC, CHEP, is the Culinary Management Program Department Chair at the Poinciana Campus of Valencia College. She is also the vice president of ACF's Central Florida Chapter. Additionally, Chef Denlinger earned the 2020 Innovation Award, sponsored by CAFÉ and the Idaho Potato Commission, for a creative escape room based on safe food handling procedures. She also earned the 2021 Green Award sponsored by the United Soybean Board and was runner up in 2021 for the Postsecondary Education of the Year sponsored by Sysco Corporation.