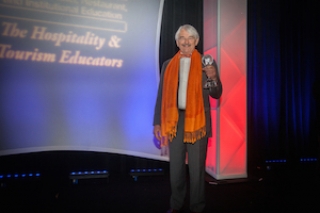 Mayo's Clinic: Online Learning from Students' Perspectives
02 November 2015
Have you considered the benefits and pitfalls of online learning? There is much to think about not only from a student's perspective but that of the instructor as well.
By Dr. Fred Mayo, CHE, CHT 
Last month, we focused on doing something different as teachers and considered our bucket lists from a different perspective; this month we will talk about online teaching and learning, starting with a review of student attitudes and approaches to this form. Next month, we will discuss online learning from a teacher's perspective. 
Advantages for Students Learning Online
There are many reasons students like online learning. Perhaps the most significant one is the freedom from attending classes at a specific time and location. While this advantage only works with asynchronous online learning – one where teacher and students communicate on their own time – it can make it possible for some students to attend classes that might be too far from home or work. It also helps students take a course that might be scheduled at times that conflict with other required courses or their work schedule. 
With online learning, students can also benefit from learning the material in small doses since most online courses provide recorded lectures, sometimes many short ones. Often the recommended length is 10 minutes. Students can play and replay those lectures as often as they need, something they cannot do with live lectures or classroom discussions. The chance to review again and again and again on their own schedules can help students learn complex material. It also decreases the stress associated with learning new material quickly.
Since students can absorb information in small doses, as opposed to 60-minute, 90-minute, three-hour or six-hour classes, they can study at their own rhythm, integrating reading, listening to recorded lectures, and watching assigned videos in any order and in any structure. This freedom often lessens listener fatigue and overcomes problems of wandering attention. It also allows students to take notes at their own pace.
However, online learning is not easy.
Challenges for Students Learning Online
The challenges of online learning for students include the lack of interpersonal interaction, elasticity of deadlines, different ways of using ideas, and the challenges of some assignments.
Not meeting with other students in a regular classroom setting creates significant changes in communication patterns and types of support often found by getting together before or after class, or the teamwork that comes from working together. When online, students find it hard to build connections with other students if they do not know their fellow participants from other courses. The informal connections are often hard to create and there are no non-verbal cues about who might become a friend or colleague.
Additionally, much of the learning is not as active as discussions held in classes like kitchens or dining rooms. The reading is done alone and often discussions and project assignments do not promote interaction with other students.
Because of not attending class sessions, students can – and often do – let assignments slide. If students know that an assignment is due before class, and they think they might be called on to discuss it, they typically do the work on time or they don't attend class (if that is an option in your institution). However, in an online setting, it is easy to postpone the reading and discussion activities until later in the week or even the next week. Therefore, it takes a lot of careful scheduling and self-discipline to stay on schedule without the classroom structure.
Often online discussions involve chat forums which include posting ideas, reading other people's comments, and then commenting again. Since the discussion does not usually happen – maybe sometimes but rarely – at the same time, it gets stilted and prolonged. It lacks the immediacy and excitement of classroom discussion, which can make it hard for some students. It requires sustained attention to a conversation and reactivating the discussion each time they participate again. 
In online learning, the assignments tend to be more individual since it is hard to organize students into teams. Many teachers also find it hard to create new appropriate online assignments. They are used to interactive assignments or more standard ways of observing student learning. Online teaching requires a wider range of assignments and assessment techniques, a challenge to both students and teachers.
Adjustment Issues
Some students do not like online learning and others love it. Rarely are they indifferent to it. It is a new and complex model and the format provides slower rewards. 
Although students are good at using technology and many spend many hours using their laptops, notebooks, and smart phones to keep up with their peers and world events through social media, they are often not used to this particular technological format for learning. It takes both time to learn the idiosyncrasies of course management and a desire to use it well. Although usually most difficult for the first online course, this challenge on top of learning new material can pose real difficulties for some students. Others like the puzzle and want to show their technological prowess. 
Since classroom interaction means that the chef instructor answers questions immediately and shows students what they are doing right and wrong in the kitchen, it can be hard for students to adapt to a slower and less immediate response from the teacher. Even though many of us respond within 24 hours to posts or email messages, that time frame is still slower than classroom interactions. And some students miss seeing a human being in the front of the class. 
Summary
Thank you for reading this column on our students' perspective of online learning. Next month, we will discuss our perspective as educators and then present strategies to make online teaching and learning effective.
If you have suggestions for other topics or teaching practices you want to share, send them to me at This email address is being protected from spambots. You need JavaScript enabled to view it., and I will include them in future Mayo's Clinics. 
---
Dr. Fred Mayo, CHE, CHT, is retired as a clinical professor of hotel and tourism management at New York University. As principal of Mayo Consulting Services, he continues to teach around the globe and is a regular presenter at CAFÉ events nationwide.